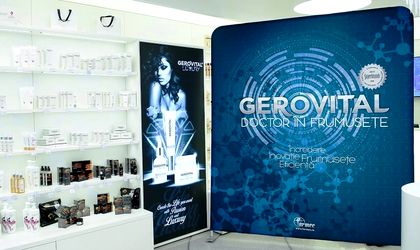 Cosmetics manufacturer Farmec continues the national expansion of its branded store network with the opening of the 25th store, following an investment of more than EUR 50,000. The new Gerovital store in Bucharest is located within the Sun Plaza shopping center and has an area of ​​more than 50 square meters.
The cosmetics producer from Cluj is already planning to open another store by the end of the year, in the Old Center in Bucharest, with its network reaching 18 Gerovital units and 8 Farmec units.
"We are glad to launch our 25th brand store – this achievement demonstrates that Romanians are constantly and trustfully choosing Farmec and Gerovital products offline as well. Positive feedback from our customers and the increasing demand to be as close as possible has led us to continue our expansion plans for our brand-name network. Thus, in 2018 we opened three stores and we want to end the year with two other openings in Bucharest: Sun Plaza and the Old Center. It is a reason of pride to be the first local cosmetics manufacturer to have our own brand network and we take responsibility to bring this concept to as many areas of the country as possible," said Mircea Turdean, the General Manager of Farmec.
The 25th brand store was inaugurated with a series of surprises, including an Eli Lasslean fashion show and a speech by Dana Savuica.
The new space was built according to the "Doctor in Beauty" concept of Gerovital brand stores, which was created in full harmony with the brand's attributes: innovation, trust and efficiency. Visitors of the Sun Plaza mall will have all the Gerovital and Aslavital brands as well as specialized advice on how to use them correctly, offered by the beauty consultants present in the store. All visitors to the new Gerovital center at Sun Plaza will benefit from monthly special offers, gifts and other benefits to the loyalty card holders. In December, promotions are especially dedicated to the most popular Gerovital brands, but also to the most popular serums, creams and ampoules of 2018.
Another feature offered for free and exclusively in Gerovital stores is the dermoanalysis test, available in Sun Plaza. It takes about 5 minutes and helps determine skin type by using specific instrumental measurements that analyze the level of moisture, elasticity, sebum and pigmentation of the skin.
Depending on the results, beauty consultants in the store can recommend products specific to customers' needs and can design personalized treatment schemes.
Farmec S.A. Cluj-Napoca – the largest cosmetic manufacturer with 100 percent Romanian capital – remains an emblem for Romania. The company portfolio impresses a whole world with modern products designed in high performance laboratories. The company has GMP international certification and sells its portfolio products in about 30 countries.
In December 2018 Farmec's brand stores network comprises of 8 Farmec stores located in Cluj-Napoca (3 stores), Arad, Braşov, Sibiu, Târgu-Mureş and Timişoara and 18 Gerovital stores located in Cluj-Napoca, Bucharest (5 stores), Constanta, Timisoara, Craiova, Ploiesti, Suceava, Iasi, Piatra Neamt, Galati, Oradea and Ramnicu Valcea.