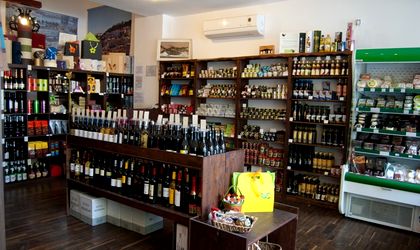 Are you in the mood for some Indian garam masala, Italian burrata di bufala, Jamaican jerk spice or perhaps a few French Perigord truffles? Then you're in luck, because all of the above can now be found in Bucharest. BR went off the beaten culinary track and discovered some of the businesses catering to those with more exotic gastronomic cravings.
Simona Bazavan
­The number of ethnic food stores and delicatessens in the capital has been on the rise over the past few years, even though foodies continue to decry their scarcity. Nevertheless, the scene has improved, with several local food enthusiasts-turned-entrepreneurs venturing to start their own business out of passion and often from the frustration of not finding the ingredients they need elsewhere. Three of these gastro-pioneers told BR their stories, which are detailed below. But there are many more.
Several other stores in the capital have established a solid reputation among gastronomes, both expats and locals.
The Comtesse du Barry stores are probably the best stop for haute cuisine aficionados looking for gourmet French products. There are two locations to choose from in Bucharest – one near the Romanian Athenaeum (2-4, Episcopiei Street) and another at Baneasa Shopping City. Outside the capital there are
another two Comtesse du Barry stores in Timisoara and Constanta. Also catering for a French feast are the two Delicateria Traiteur shops – one in the Dorobanti area (22-24, Putul lui Zamfir Street) and the second in the Carrefour Feeria Baneasa commercial gallery. Another option is LaReserve online store.
Still in Europe but moving a bit farther south, several Italian restaurants in Bucharest also host stores or sell Italian ingredients. There are the Salsamenteria Pipera (55, Pipera Blvd) and Grano Italian Fine Food (40, Putul lui Zamfir). Lovers of Italian cuisine can also sate their culinary desires at the Sapore Toscano specialist store (91-111, Floreasca Road), which sells everything from truffles, Chianti wine and grappa to several varieties of Tuscan cheese and meat products.
The Greek community in Bucharest is one of the most long established and there are quite a few specialized outlets purveying the country's famed cuisine. They include the Ellada chain of stores (Amzei Square, Floreasca, Dorobanti and other locations), Magazinul Etnic (14, Decebal Blvd) and La Bunataturi (29, Dorobantilor Road) which also stock traditional Romanian products.
For more exotic tastes, there are several Halal butchers' stores and Arabic pastry shops in Bucharest, while those interested in Chinese food will find outlets at the Dragonul Rosu shopping center.
For standard international ingredients also check the large consumer goods retailers which in recent years have begun stocking more and more products from around the world.
Gala Food
Produce: Portuguese
Address: 111-113, Floreasca Road
It all started with a trip to Lisbon, the Portuguese capital, says Luiza Rudeanu, the store's owner. "I was impressed by a small gourmet store offering tastings of green tomato jam and olive oil and sea salt spreads. I bought some tomato jam and other preserves and I fell in love with these products. Now they are always available in the store," she told BR.
Gala Food was founded in 2009, only three months after its owner returned to Romania, although she had no previous entrepreneurial experience whatsoever. In 2010 the shop was relocated to the Floreasca neighborhood, in search of better business and a larger location.
The outlet stocks over 50 types of wines, 30 kinds of fish and seafood preserves, oils, sweets, cheese, meat products and various accessories. All items are directly imported from Portuguese producers. The wines and preserves are the best sold products, says Rudeanu adding that each year she introduces new products.
Delicatese Florescu
Produce: gourmet coffee
Address: 6, Radu Cristian Street and 16, Regina Elisabeta Blvd, inside the Mihai Eminescu bookstore
Delicatese Florescu is Romania's first true gourmet coffee shop, its owner claims. After writing his memoirs, Confessions of a Coffee Seller, which
are widely read both at home and by Romanian emigrants in Europe, North America and Australia, in July 2010 Gheorghe Florescu took his passion for coffee a step further and with his family opened the store.
He now sells Romanian consumers some of the world's most exclusive coffees  – Panama Boquete Geisha, Saint Helena, Jamaica Blue Mountain and Nepal Mount Everest Supreme – and has launched five personal brands based on the Armenian tradition passed down to him by his mentor, the coffee supplier of the Royal family, Avedis Carabelaian. The shop also sells wines such as Casa Isarescu, the famous Armenian brandy Ararat, freshly roasted peanuts, cashews, hazelnuts, almonds and pistachios, Belgian chocolate, honey specialties and copper coffee pots.
Its best sold products are the coffees, wines, freshly roasted peanuts and gourmet sweets, books and CDs.
Magazinul de Mirodenii
Produce: spices
Address: 25, Tudor Stefan Street, Dorobanti area
Oana Bakovic and Bojan Spasic
"Our business is about spices, their stories, their extraordinary qualities and the inspiration they provide," Oana Bakovic told BR. She set up Magazinul de Mirodenii (The Spice Shop) with Bojan Spasic as a small family business last September after mulling over the idea for more than a year.
The store stocks about 200 spices and blends from around the world. This includes 90 pure spices which are directly brought from their country of origin – 40 percent of which are certified organic – and 40 blended varieties, plus several types of salt and pepper, oils and accessories.
Bakovic says the shop's customers are as diverse as the products it sells, but what they all have in common is a passion for healthy and creative cooking.
The store's best sold products include: turmeric, brooklodge mix (Irish), berbere mix (Ethiopian), black lava salt, lime leaves, ground orange peel, baharat, fajita, lemongrass and Thai tamarind.
The outlet sources its products from two UK-based spice traders and has direct contact with a producers' cooperative in Sri Lanka. As for the owners' future plans, Bakovic says they want to expand their product portfolio and even move into growing spices themselves.