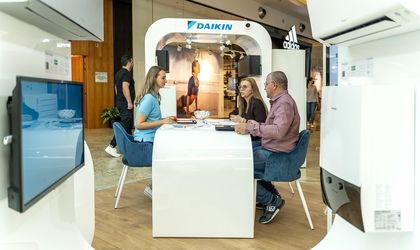 Daikin Romania, part of the Daikin Europe N.V. group, world leader in the air conditioners market, with over 90 years of experience in designing and manufacturing innovative heating and cooling technologies opens its first concept store for the general public in Baneasa Shopping City from 1 June to 31 August 2022.
This will provide customers with integrated presentation, testing and assistance in purchasing home air conditioning solutions.
The new Daikin Concept Store is an important key pillar of the company's strategic approach focused on the consumer experience, with the objective of facilitating a direct and high-quality interaction, so that the customer can design their home comfort using Daikin equipment, with the help of specialized assistance.  At the same time, the continuous development of Daikin's network of authorised partners, through training and courses, supports the strategic development plan, ensuring the highest level of information and knowledge in the industry.
"We are constantly looking to come up with new solutions focused on meeting consumers' needs and expectations, and our own concept store is another step forward in this direction. By interacting directly with Daikin experts, end-users will receive detailed information about Daikin's innovative product features and technologies. We will answer all visitors' questions and give them the opportunity to discover modern, state-of-the-art solutions for indoor air quality. They have the opportunity to interact with our equipment, test it and purchase it", says Daniel Vasile, Managing Director of Daikin Romania.
In the Daikin Concept Store, located in Baneasa Shopping City on the 1st floor, visitors will be able to discover Daikin's new products, cooling, heating and air purification solutions and smart connectivity options. Among the products on display are the new Daikin Emura, representing the top range of air conditioners with an iconic design, the Daikin Stylish and Perfera ranges, as well as the Daikin Altherma heat pump and the MC55W and MCK55W air purifier models.
In order to ensure the simplest and fastest possible process, both for the purchase of high-performance cooling and air purification equipment and for installation and transport services, Daikin also provides residential customers the online platform buydaikin.ro, which integrates sustainable and energy-efficient purification and air conditioning solutions with consulting services, extended warranty, support and installation in one place, providing a complete and fast shopping experience.