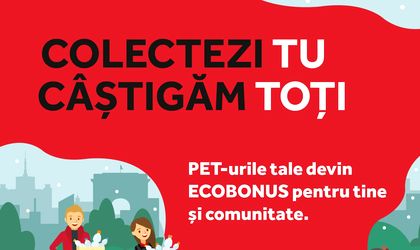 Under the slogan "You collect, we all win!", Coca-Cola HBC Romania, PENNY Romania and GreenPoint Management launch the ECOBONUS campaign that encourages consumers to separately collect and bring their used PETs to the automatic collection devices (RVM) installed in 18 PENNY stores in Bucharest. Their effort will be rewarded with ECOBONUS worth 150 lei and 10 lei, and the value of all Dorna bottles collected in the campaign (1 Dorna bottle = 50 bani) will be redirected by the 3 partners to the Bucharest Community Foundation for the implementation of an environmental project in Bucharest.
"Sustainability is an integral part of our plans, both for partners, suppliers and for consumers, with a focus on sustainable packaging. Year after year, we take important steps towards a circular approach, but only together we can achieve this goal. Thus, we are glad to develop together with PENNY Romania and GreenPoint Management the campaign "You collect, we all win ECOBONUS" that encourages consumers to adopt a responsible behavior. With each PET collected, we reduce packaging waste and turn it into resources that, through recycling, give life to new packaging, with a much-reduced carbon footprint, as the packaging of our mineral water Dorna is. We believe in the power of togetherness and we invite you all to be part of the change with us" said Alice Nichita, Corporate Affairs & Sustainability Director, Coca-Cola HBC Romania.
The initiative started in 2020, with the ECOBON pilot project, and this year it aims to inspire even more people to adopt responsible behaviors that can bring them rewards: for at least 10 PET bottles collected, the RVM machine releases a ticket with an unique code through which participants are automatically enrolled in the weekly raffles where they can win one of the 216 PENNY shopping vouchers worth 150 lei each. Because every choice of responsible consumption deserves to be rewarded, collecting 20 Dorna bottles made from 100% recycled PET, offers the consumers an instant voucher worth 10 lei.
"People need to know concretely why it is important to recycle and have access to resources that allow them to adopt this responsible behavior on the long run. We are here to remind them that every action we take today has a major impact on what our future will look like. That is why we have installed RVM devices that can read the EAN codes on Dorna rPET bottles in each of the 18 stores in Bucharest and we intend to extend this novelty at national level. Every recycled PET counts and means caring for us, for nature and for the community. That's what we wanted for people to know through the ECOBONUS campaign – each of us can actively contribute to the common good" said Claudia Ivan, Sustainability Manager, PENNY Romania.
In addition, Coca-Cola HBC Romania, PENNY Romania and GreenPoint Management will transform the Dorna bottles collected in all 18 stores in Bucharest into an ECOBONUS for an environmental cause of the Bucharest Community Foundation – OPEN, a project developed by Climatosfera Association. The project aims to give back to the community a green area of 2,400 square meters from the Tei student campus, with several functionalities: the Urban Park Area – open to all people in the neighborhood for recreational activities, also having a small playground, and the Urban Garden Area – an educational space for urban agriculture, where people learn how to reduce the carbon footprint and how to contribute to the circular economy.
"GreenPoint Management is pleased to be able to engage in sustainability actions designed to support the local community and protect the environment. Traditionally, modern society has relied on linear systems, in which resources are extracted from nature, processed and made into products, used and finally disposed of, becoming waste. In recent decades, as resource efficiency has become a necessity, encouraging businesses and consumers to reduce, reuse and recycle waste becomes a mandatory task in any type of activity. Now the focus is on adopting a circular economy, in which the waste of one economic cycle becomes the resources of another economic flow", said Dan Ceauşescu, Executive Director of GreenPoint Management.
The campaign starts on February 1st and runs for 3 months until April 25th in all Penny stores in Bucharest. The list of participating stores as well as the participation criteria can be read in the campaign rules available on www.penny.ro.