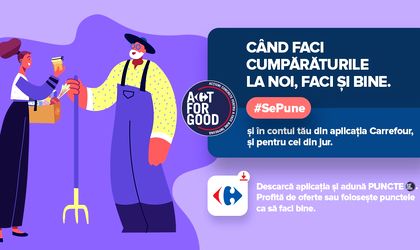 Through the new Act For Good initiative, Carrefour is converting conventional shopping into a personalized experience with social impact. For every shopping session, customers receive Act For Good points helping them make good deeds, but also benefit from discounts and personalized offers. Everything is well integrated into the Carrefour app – a unique hub in the retail market gathering shopping, social responsibility, community support, and personal experiences in just one place.
Act For Good is not just a loyalty program, it represents a way of living, creating an environment in which 'doing good' is the main currency. Therefore, every individual action on the platform is contributing to the greater good of the community.
The program will be a part of the Carrefour App, available both in App Store and Google Play. Once the app is downloaded, if you choose to create an Act For Good account, a unique code will be generated that can be activated at the cash register in any Carrefour supermarket. Every purchase based on the Act For Good code is rewarded with 1 point for every 20 lei spent (exception for alcohol and tobacco) while extra points are given for specifically marked products. By scanning the Act For Good code, all points are collected individually under the account.
'Act For Good is a Carrefour platform bringing together and rewarding our loyal and active customers who value a healthy lifestyle, respect nature, and the community. With Act For Good, we add extra value to day-to-day shopping, encouraging positive behaviors by associating them with the simple act of buying. With every purchase made through the Carrefour App, you receive points unlocking unique offers, giving you access to unique experiences, and facilitating donations to a cause that you believe in. More specifically, you become part of a perpetuum of 'doing good'. In this way, the app becomes your way to easy, fast, and safe shopping while contributing, with small steps, to a greater cause. At the base of Act For Good lies the customers' ideas and feedback from which we learned not only how they shop, but also how they like to do good. Thus, we propose, for the first time on the retail market in Romania, a program that converts every transaction into a good deed which #SePune for the greater good.' – Narcis Horhoianu, Marketing Director and Executive Committee Member of Carrefour Romania.
There's no gesture left unseen under the Act For Good program. It manages to capitalize every act of kindness and places the users in the middle of it while involving them in completing the list of social issues that they would want to support.
'At Carrefour, we value every action that contributes to the society. For example, if you choose to buy tomatoes from Carrefour, from a local supplier, this action will be rewarded with Act For Good points which could be later used for supporting the farmers that grew those tomatoes. Doesn't matter how little you think your efforts are, Act For Good from the Carrefour App is exactly about that, about every small gesture that #SePune. Every small gesture is added up to all the other small gestures contributing both to you and the society. We want the concept of 'doing good' to be an integrated part of everyday life, as everyday shopping already is. It is an extra step, doubling the actions Carrefour takes to support the Act For Good philosophy which comes next to the original programs such as We Open Romanian Wine, Growing BIO Romania, Quality Filters, We Put Price on Plastic. Through all these, but also other strategic partnerships, we support the local communities and suppliers and take action to support a healthier lifestyle.' – Anca Damour, CSR and External Communications, Real estate & Corporate Affairs Director and Executive Committee Member of Carrefour Romania.
The new Act For Good program launched by Carrefour unifies every individual effort, no matter how small, for the greater good of the community through responsible, accountable, shopping. Change lies in every one of us and in how we relate to day-to-day activities, adding more meaning to them aiming for a balanced and sustainable lifestyle.
Thus, #ItCounts for you through:
Extra discounts and loyalty points for the weekly offers available in the app and those marked on the self.
Daily special offers between 20% and 50% for selected products.
Premium products exclusively for program members.
'unlocking' special vouchers for exclusive Act For Good discounts;
Points that can be used to participate in dedicated experiences (events, activities, tastings);
Doing good by donating the points to an NGO.
And #ItCounts for the greater good of the community by:
Supporting local supplier through discounts and rewarding purchases on this segment.
Discounts on bio, eco, and healthy products that help the environment and the community.
Donating Act For Good points for supporting a social cause, listed in the app.
In other words, starting from now, at Carrefour, you do good while shopping.