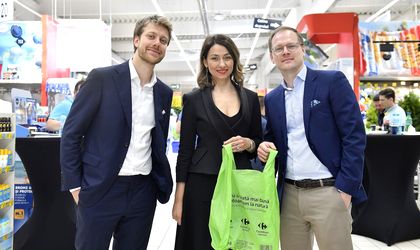 Carrefour Romania introduces 100 percent biodegradable bags created on the basis of natural polymers by a Romanian producer. The new bags will be available in all over 320 stores in Romania by the end of June.
As of January 2019, the use of plastic bags will be forbidden, became an opportunity, and Carrefour signed a contract for the production of biodegradable bags with Florin Pogonaru, which last year launched Prodplast Bio – a specialized division of his plastic producer company and owns Biodeck brand active in re-generating herbal products to replace other plastic products such as cutlery, plates or plastic glasses.
"The introduction of the biodegradable bag is a major step in our vision of promoting a better life and becoming a leader in the food transition for all by promoting a circular economy in Romania, an economy that favors biodegradable materials quickly and safely at the expense of environmentally toxic ones, which focus on preventing the release of heavy-duty recyclable waste," said Anca Damour, corporate affairs and communication director, Carrefour Romania.
The new bag biodegrade in 3 to 6 months
The bag is made from corn starch and is printed with soybean ink, specially designed to quickly biodegrade (3-6 months) and completely without to pollute the environment.
Moreover, the bag is entirely compostable (convertible into organic material by naturally occurring microorganisms) – according to the S0708 certification. For starters, 100 percent biodegradable bags will be available to Carrefour customers in two formats with a capacity of 5 kg and 7 kg respectively.
According to the existing legislation from July, plastic bags will no longer be placed on the market and from next January it will be forbidden to sell them.
As a result, Carrefour will replace them with biodegradable bags made by Prodplast Bio, controlled by Florin Pogonaru.
Prodplast also developed the Veranda Mall in Obor, where Carrefour is a retail anchor. The French company is the world's second-largest retailer, and the largest in Europe owning 323 stores, 23 of which are hypermarkets.
Razvan Zamfir