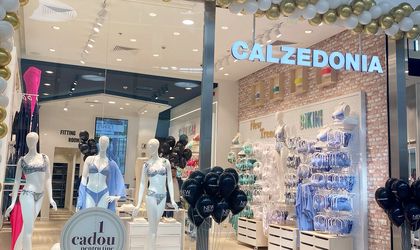 Calzedonia Group, one of the strongest fashion retailers in the world, will bring their Calzedonia, Intimissimi, and Intimissimi UOMO brands in the Palas Iași mixed-use complex, as part of their expansion plans in Romania and the IULIUS Company strategy to implement regionally unique shopping concepts. The Italian group will join the brand portfolio in Palas in the course of this year.
The Palas Iași mixed-use complex is consolidating its position as the dominant shopping destination in the region, offering new store concepts from strong international brands with a unique presence in the north-east of Romania. This year's newcomers include the stores of Italian group Calzedonia, which will open three locations here: Calzedonia, Intimissimi, and Intimissimi Uomo.
"Part of Palas Iași mixed-use complex, Palas Mall is the most competitive shopping mall outside of the Capital, a performance proven by the results it achieved, the footfall upwards of 20 million visitors per year, and also by the desire of major brands to be present here with their latest and most modern store concepts. Italian group Calzedonia is one of the international leaders in the field, appreciated by millions of customers around the world, and we are excited that their successful brands and products will also reach this region," said Oana Diaconescu, Head of Leasing Retail IULIUS.
Founded in Verona in 1986, Calzedonia is one of the most respected retailers in the fashion industry, with 2,149 stores across 55 countries. Calzedonia offers fashionable products for women, men, and children, that easily fit into everyday outfits. The wide range includes tights, socks, leggings, swimwear, as well as beach and outdoor accessories.
Intimissimi addresses women and teenage girls, being a famous underwear brand, which also offers a variety of other categories such as pajamas, corsets, and accessories. Comfort, elegance, style, and sensuality: each piece by Intimissimi is handmade, featuring Italian artisanal designs and details such as macramé lace, embroidery or precious accessories. The brand has been present in Romania since 2013 and operates eight stores in Bucharest, Constanţa, Craiova, Timișoara, and Brașov. Across the world, the brand operates 1,645 stores in more than 50 countries.
Exclusively addressing men, ranging from adolescence up to any age, Intimissimi UOMO stands out owing to the quality of materials, most of which are made of natural fibers, and due to the diversity of available models. The brand specializes in underwear and socks, but customers will also find an extensive range of pajamas, outerwear, and beach shorts in the store. The pieces designed for men had been part of the main brand since 1996, but 2014 marked the opening of the first Intimissimi UOMO store. The brand currently operates five locations in Romania and another 344 worldwide.
In the IULIUS company network, the Italian group is present in the Iulius Town Timișoara mixed-use complex with its Calzedonia, Intimissimi, and Intimissimi UOMO brands.