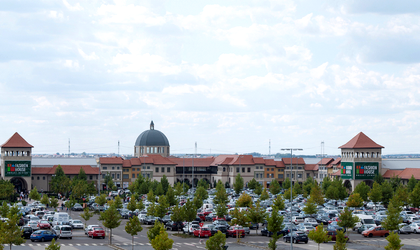 International fashion retailer Cacharel has recently opened a new 196 sq. m. store in Fashion House Outlet Centre Bucharest. This is currently the only Cacharel brand store in Romania retailing exclusively menswear collections.
Created in 1962, in Nimes, by Jean Bousquet, Cacharel is now an internationally renowned brand, associated with the idea of youth, lightness and refinement. Cacharel was one of the first fashion houses to present a pret-a-porter collection as an alternative to haute couture in the 1960s. The success enjoyed by Jean Bousquet has contributed substantially to the Cacharel brand awareness globally.
"It is very fitting that Cacharel has chosen Fashion House to open a brand store, the only one currently in Romania, and we are honoured to add this revered brand to our portfolio in the outlet. This opening reconfirms the strategy of many big international fashion retail brands that choose our outlet in order to expand and optimize their distribution networks in the region", stated Cornelia Nicolae, retail operations director, Fashion House Group, Romania.
The opening of the Cacharel store further demonstrates the growth potential of the local retail market and, especially, of Fashion House Group, the only operator of outlet centres in Bucharest.
The 15,500 sqm outlet centre in Militari boasts 50 store units, home to many famous brand tenants, with a third phase opening in November 2020 and a final phase due to be unveiled in 2021.
When opening the Military Outlet Centre in December 2008 – which marked the Group's first investment in Romania – Fashion House also inaugurated a new concept for positioning such centres in large retail parks in Central and Eastern Europe.
By spring of 2021, the Group will inaugurate its second outlet cetre in Bucharest, near Cernica (exit from the A2 motorway). The Centre will accommodate 59 stores, over 50 per cent having already been let.