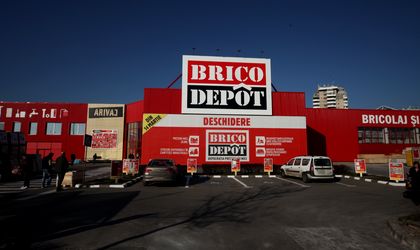 Brico Depot Romania, part of Kingfisher plc, began the process of rebranding Praktiker's portfolio. The acquisition, in 2017, of Praktiker strengthens Kingfisher's position on the local home improvement market, becoming the number two in Romania, with a network of 38 stores and growth opportunities on the local market.
The rebranding process of the Praktiker network will be implemented in several phases and continues the Kingfisher Group's approach of contributing to the development of the home improvement market in Romania.
Focused around the ONE Kingfisher operational strategy launched in 2016, development directions include turning current product ranges by integrating a range of products available in all European stores where customer needs are always the first. At present, 7,500 products from the unified offer are in the Brico Depot network, and over 5,000 of these are already available in Praktiker stores.
The rebranding process will be completed by the beginning of the spring season, so in the first part of 2019 Kingfisher will operate the entire Romanian network under the Brico Depot brand.
"We are continuing the consolidation strategy after the acquisition of Praktiker by the end of last year by initiating the rebranding process. We will complete an important step in the integration process and launch another, geared to a much better national coverage and more focused on the needs of our customers. We believe that each of us must have a home where he feels good, and our goal is to make the dwelling redevelopment accessible to everyone. The ambition of our group is to become a leader in the home improvement market, an objective that will increasingly be shaped by our medium and long-term strategy, "said Adela Smeu, CEO of Brico Depot Romania.
In addition to the rebranding process, the plan to optimize the business network and streamline operational activity includes the closure of three Praktiker stores, respectively, Arad, Brasov and Pitesti.
Brico Depot has already provided a support and integration plan for as many employees as possible in the existing retail network.
In 2016, the Kingfisher Group launched a new operational strategy, ONE Kingfisher, focusing on creating a unified offer of products for home improvement, digital enrichment and operational efficiency optimization in all Kingfisher countries.