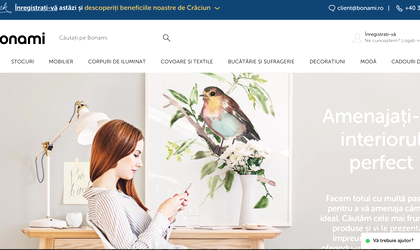 Bonami, the online store with furniture and decorations, exceeded the initial forecast for April, achieving sales of EUR 6 million in all markets where the company is present, of which EUR 1 million on the Romanian market.
"Even though the growth was initially slower, since mid April sales have followed a steady upward trend. In percentage, Bonami achieved sales 30 percent higher last month than in March, when the pandemic crisis broke out. We are also pleased with the results obtained in May, we expect an increase of 80 percent compared to the same period last year for the entire company and 120 percent for Romania," Pavel Voparil mentioned, the company's CEO.
Bonami has been thoroughly preparing for the summer 2020 season since the beginning of the year, with new spaces dedicated to storing stock products, so that they can be delivered to customers in the shortest time. "It turned out to be a successful strategy, some items are already sold out, even if initially the purchased quantity was planned for the whole season. The product categories with the best dynamics are the garden furniture and the items for organizing the home", Voparil also stated. In the coming months, Bonami is counting with a higher than originally expected growth, wanting to sell out the entire stock of products available, with the exception of large pieces of furniture.
The company takes into account the current context, in which customers will travel less and will spend more time in their own home and garden, being willing to make significant investments to create a pleasant space. Bonami thus offers them the opportunity to buy everything they need for the house online, without having to go to physical stores.
In order to improve the shopping experience, the company launched its own delivery services, but also express delivery of orders to its customers, in collaboration with Liftago. Thus, customers can opt for fast delivery, within 3-4 hours, of small products.
 "We wanted to offer complex services, not only the delivery of oversized items to the client's home, but also a basic assembly service, the removal of packaging and, possibly, the collection of old pieces of furniture. No  carrier could offer us these options, so we created them. It is a component of a new distribution model that we want to apply logistically in all the markets where we operate," explained the CEO of Bonami. Currently the option is valid only for the Czech capital, but soon an extension of services will follow in all countries where the company is present.