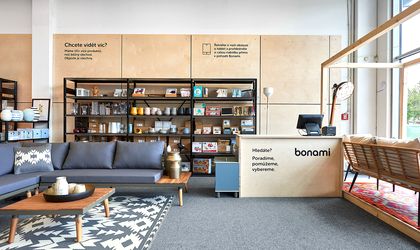 Bonami, the furniture and decorations store, which most customers know from the online environment, has opened its first physical store in the shopping area of ​​Cerny Most, in Prague, Czech Republic. Interior design lovers thus have the opportunity to see the ranges to try out the products, but also to order, return, exchange or buy directly, all in one place.
In an area of ​​approximately 200 square meters, there is a selection of accessories, lighting fixtures, as well as furniture, from brands such as: Bloomingville, Be Pure Home, PT LIVING, Karlsson or furniture from Karup, Actona, La Forma and Rowico. The space will change its assortment depending on the season and the ongoing online campaigns.
"In the current situation, this inauguration may seem unexpected, but for us, it is part of a long-term strategy and we see it as an excellent opportunity. Our main concern is to offer customers the possibility to touch the products and to be convinced of their quality. The physical store is just one of our solutions to create a complete omnichannel experience," commented Pavel Voparil, CEO of Bonami.
During the purchase, in order to simplify the ordering procedure, customers will have tablets available. By scanning the QR code of the selected product, they display all available information as well as related items. The store offers collections in various styles and price ranges, so that there is a wide offer for any public.
"Bonami offers 60,000 products online, and it is, of course, impossible to bring the entire range to the physical store. But, through our selection, we want to attract customers online, so that they benefit from a much wider range. We also want to add other services in the future, such as electronic price displays, a space for workshops and meetings, as well as the services of an interior designer," Voparil added.
The store shares a common space with the Czech reseller of beds and mattresses, ProSpánek, thus offering the opportunity to purchase products directly, for a healthy sleep. They are also available online. In the future, Bonami plans to open other stores, both in the Czech Republic and in other markets where the company is present, including Romania. Catfish make for some of the best eating freshwater fish available in the USA and catching them sure is a heck of a lot of fun. Choosing the best catfish rod really means understanding how the size of the cats that you are most likely to target on a regular basis affects your rod and then matching you gear to suit. ​Although a smaller 3lb or under channel cat can be caught on just about any rod and reel setup really big cats do require that you invest in a really good catfish rod. For mid-range to large cats you'll need a catfish pole that has a tonne of backbone and can stand up to the beating that these pow
In order to meet the needs of its customers, in a difficult period, Bonami implements a completely free return policy, for 365 days, to any product ordered, both small and oversized. The company thus wants to offer extra security and comfort to all those who place orders online.