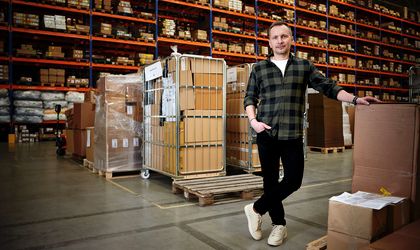 Bonami, the online retailer of furniture and home accessories, is growing again. After Central Europe, it is now expanding to Slovenia, Croatia, Lithuania and Latvia. All these countries have in common the fact that they are located close to the markets where Bonami is active, and also their potential for online sales.
With this step, the company will almost double the number of countries in which it is present. On the new markets, Bonami will gradually offer all its services, however leaving room for the preferences of local clients. The company plans to be among the 5 players in the field, in the next 5 years.
The decision to expand was encouraged by the business results of 2020, which was a very successful year for Bonami, in spite of the complications caused by the pandemic. "We have gathered that, as an online player which also has brick and mortar stores, we not only have an advantage against traditional large scale stores, but we can also replicate our services," commented Pavel Vopařil, CEO of Bonami. "We evaluated a series of demographic and economic indicators, the state of the industry in these countries and the level of competition. In all cases, a very important role has been played by the potential we see in them. ", added Vopařil.
Among other things, Bonami wants to capitalise on the potential of Croatia and Slovenia in the area of mobile phone usage. "It is possible, in some cases, that people may still not be familiar with online shopping, but we would like to offer them services that will make this switch as smooth as possible. In addition, these markets have grown rapidly over the last couple of years and they show no signs of slowing down." Latvia and Lithuania, on the other hand, have a high level  of Internet connection and a high potential in the field of interior design.
In addition, there are local teams in place, who will take into account the requirements and preferences of each market, so as to create customized services. As on all other markets, Bonami will offer its unique services and selection of products. Initially, there will be approximately 40,000 small furniture and home items available, but, gradually, the offer will grow to include large items.
For the time being, all markets will receive products from the Prague warehouse, which has been significantly enlarged and currently has a capacity of approximately 40,000 sqm. For the products on stock (over 20.000 ), Bonami starts delivery within five hours from the moment the order is placed, and in cooperation with local partners, delivers to a certain address or to pick up points, within three days. Similarly to other markets, clients will be able to place orders for products that are delivered within weeks.
Bonami's expansion abroad started a year after it launched on the Czech market, in Poland (2014), then in Slovakia (2015), in Romania (2016) and most recently in Hungary (2018). This year Slovenia, Croatia, Lithuania and Latvia have followed suit.