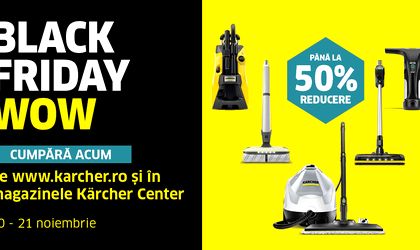 Kärcher, the world leader in cleaning technology, is running its Black Friday campaign starting on November 10 until November 21st and is offering discounts up to 50% and free shipping for 27 products: wet-dry upright vacuum cleaners, window cleaners, steam cleaners, electric mops and pressure washers.
This year's stars are:
VC 7 Cordless upright vacuum cleaner with a 35% discount. It has automatic dust detection technology, intelligent suction power adjustment according to the surface area and 3-stage filtration system.
FC 7 Premium, FC 5 Premium and EWM 2 electric mops with discounts up to 50%. The FC 7 Premium and FC 5 Premium are all-in-one, pre-vacuuming is no longer necessary as, in addition to exceptional automatic floor cleaning with roller technology, they also pick up everyday dirt, including hair. Kärcher electric mops are the only ones on the market that use this technology and always wash with clean water, the dirt being collected in a special tank.
SE 6100 wet-dry vacuum cleaner, reduced by 35%, was also last year's star and it is the most successful product, providing both wet-dry vacuuming and washing of carpets, rugs, mattresses, but also used for cleaning car interiors.
The WV 2 Black window cleaners, discounted by 30%, have been among the favourites of Romanians in the last 3 Black Friday campaigns.
Steam cleaners, various models, with discounts between 21 and 40% are multi-functional and can clean the whole house with steam power only and without detergents.
"We can see an increased interest in recent years in multifunctional appliances, which simplify household chores and help clean thoroughly, but much faster. Although often associated with moments of relaxation, cleaning is still not among the favourite activities. But thanks to advanced technology, Kärcher appliances have this asset – giving people control over cleaning process, with products and accessories that revolutionise not only the way they are cleaning, but also the time spent on cleaning activities. We expect that the interest will continue to be mentained for upright vacuum cleaners, steam cleaners and electric mops, to which we have also applied discounts up to 50% and for which we are offering free shipping during the campaign" says Mihaela Dărângă, Kärcher representative.
Sales up from last year
This year, the average shopping basket in the online store is around 700 ron, up by 5% compared to last year. "If in the first year of launching the online store, in 2018, sales reached 100,000 euros, in 2021 we ended the year with sales of 900,000 euros. This year we aim to exceed 1 million euros", adds Mihaela Dărângă, Kärcher representative.
In 2021, the most popular products from the karcher.ro online store during the Black Friday campaign were the WV 2 Black edition window cleaner, the SC 3 Easy Fix Premium multifunctional steamer, the FC 7 Cordless electric mop and the KB 5 Premium electric broom .
Also last year, a trend was observed in consumer behavior, specific to the post-pandemic period – paying particular attention to the cleanliness and hygiene of the home. The most popular cleaning product was the SE 6100 flush vacuum cleaner.
This year's Black Friday promotion is available between November 10 and November 21st, both online, at www.karcher.ro, and in the network of the 11 Kärcher Center stores in Romania. Shipping is free during the campaign, and the return period will be extended to 30 days for the ordered products.