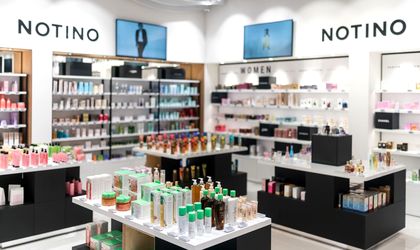 Aoro by Notino, the online store specialized in beauty products, has completed its rebranding process, bringing customers in Romania a series of events and special offers. The biggest European online retailer, with the biggest selection of perfumes and beauty products, Notino expands its portfolio in Romania with a series of products that were available earlier through Aoro by Notino.
By Romanita Oprea
"Along with the new name, we bring to Romania a new international standard in the online beauty retail segment. Thanks to our own warehouse management system, the new strategically located distribution and the direct collaboration with suppliers, we process over 100,000 orders daily. Moreover, we offer support via e-mail, phone, social media, but also in person, in our store in Bucharest," said Michal Zámec, founder.
Customers can visit the online store, as well as in the store in Promenada Mall in Bucharest, and find the same prices. Moreover, the clients also have the option of picking up their orders in Promenada. Since the store opening in the beginning of this year, 17.000 clients have shopped there for their desired products and other 15.000 chose to pick up their products.
"The rebranding brings the unification of the European standard and Romania couldn't stay behind. We want to offer our Romanian clients the same great value beauty products, a large selection of products and excellent services with which we have accustomed our clients in all the clients we are present in," said Oldřich Dostál, Brand Marketing Director la Notino, the person who supervised the whole rebranding process.
Aoro.ro was launched in 2009 and in 2017 changed its name to Aoro by Notino, while its rebranding into Notino was finalized in 2018. Last year, Aoro.ro's turnover was over EUR 22 million and rising.