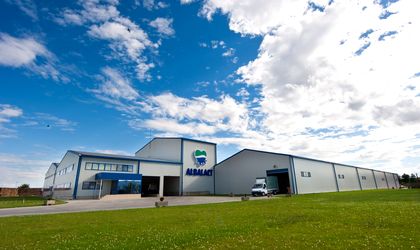 Romanian dairy producer Albalact has reported a turnover of RON 338.25 million (approximately EUR 80 million) for 2011, up 29 percent y-o-y. The company's total revenues went up 31 percent to RON 353.12 million (approximately RON 83 million). Albalact's net profit amounted to RON 5.7 million (approximately EUR 1.34 million), according to company data.
For the first quarter of this year Albalact saw both turnover and net profit go up by one percent to RON 86.36 million and RON 2.7 million respectively.
"I consider that we have passed a very difficult year with good results. We have managed to achieve the budgeted increase despite the fact that economic conditions remained difficult and consumption saw no improvement. We continued to invest in the launch of new products and the modernization of production lines, but we also had to work hard for cost efficiency in order to maintain profitability," said Raul Ciurtin, general director of Albalact.
In his opinion 2012 will not be any better than the previous year. "2012 doesn't come with better perspectives – consumption and the purchasing power will be even more affected. For 2012 we plan a slight turnover and profit increase of up to 10 percent and we prepare several changes to out product portfolio," Ciurtin added.
Albalact is one of the main three dairy producers inRomania. The company manufactures over 80 products under the Fulga, Zuzu, De Albalact and Raraul brands. Zuzu is market leader for bottled milk and UHT milk segment with an 18.51 market share (value, according to data from Nielsen). De Albalact is also market leader for butter with 27.63 percent of the market (value).
Last year the company has finalized the investment in its Raraul factory, invested in extending the product portfolio for the Zuzu brand and launched a digital platform for communication for the Fulga brand. According to company representatives, Albalact will continue to invest in launching new products throughout 2012.
Albalact was founded in 1971 and privatized in 1999. It has over 600 employees, and 6,000 shareholders and is listed on BVB's second category.
Simona Bazavan