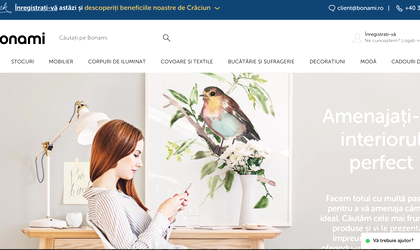 This year, during the two Black Friday promotions, Bonami, the e-shop selling furniture and decorations, has seen an increase of 80 percent in sales, in Romania and of 100% on the other markets where the company is present. Total sales made during the duration of the promotions, including Cyber ​​Monday, reached EUR 6 million overall, of which EUR 800,000 in Romania.
Surprisingly, between November 27th and 29th, and on Cyber ​​Monday, the sales were higher than on the Romanian Black Friday weekend, EUR 4 million versus EUR 2 million, with the same trend being confirmed on the Romanian market, (EUR 500,000 versus EUR 300,000). The largest order made in Romania had a value of EUR 9,500.
The highest online traffic was reached Sunday afternoon and night, the trend withstanding both periods with special Black Friday promotions.  Compared to an ordinary November day, online traffic rose by 150%. Romanians prefer ordering through the mobile phone, while in all other countries where Bonami is present,the orders were made using desktop.
"Interestingly, this year, the most searched for category in Romania has changed. Until now, there was a constant interest in the textile category (carpets, bedlinen), but we were pleasantly surprised to find out that currently, the most searched for category was sofas. During the two promotional periods we succeeded in selling 35.000 products in Romania, out of a total of 250.000 on all markets", said Pavel Vopařil, CEO of Bonami. "Although in Romania, the majority of orders are paid by cash on delivery, the increase in the number of card payments makes us hopeful that, by next year, this means of payment will prevail", added Vopařil.
This month, Bonami unfolds special inspirational campaigns for Christmas and the festive season, offering useful advice on how to decorate, how to choose gifts and how to wrap them. Until the 20th of December, every leu spent on the website will be returned as credit on the 24th of December 2020, adding up as a discount for up to 20% of the total value of the order. The credit is valid through December 31st, at midnight.