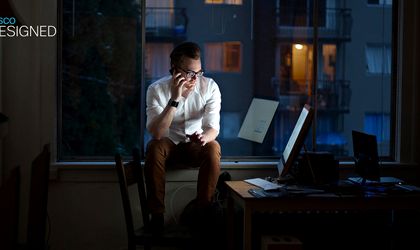 Today, small businesses are facing unprecedented changes that are having a fundamental effect on how they operate. Many small businesses have been moving to remote work by necessity, and that's not likely to change any time soon.
Now more than ever, small businesses need to be agile when digitizing their business models. In a turbulent environment, reliable technology is critical to survival, helping them grow their revenue, optimize their customer experiences and differentiate themselves to remain competitive.
Last but not least, small businesses need to connect securely and focus on protecting their users, data and devices at all times. As a result, video conferencing, collaboration, and secure calling are increasingly becoming an IT requirement for businesses of all sizes.
Working outside a traditional office used to be considered difficult or impossible, but today the technology to collaborate from multiple locations is mature and it works. The key is to find solutions that work together well so all employees can focus on doing their jobs, instead of fighting with outdated software.
Meet Cisco Designed, Cisco's new technology portfolio designed specifically for small businesses, that includes support for five of small businesses biggest technology challenges.
Work from home: how to meet and collaborate with employees and customers securely
Cybercrime protection: how to safeguard from identity theft, hackers and internet attacks
Always-on business: how to provide easy installation and reliable IT services using cloud technology
Workplace monitoring: how to enable safe social distancing and real time monitoring
Future or new office: how to improve productivity and security at shared physical workspaces
Cisco Designed – Smart Strategies for Small Businesses
Video conferencing helps people feel connected. But many solutions aren't designed with security in mind, especially the consumer-oriented products you may use to chat with friends and family. Do you really want to risk your business and share your customers' and employees' sensitive information on a vulnerable platform?
Webex Work is a complete cloud collaboration solution that combines calling, meeting and messaging services in a single subscription, with attractive flexible monthly pricing for small businesses.
Webex provides strong encryption, compliance visibility, and control. Whether people are communicating within the business or collaborating with suppliers and vendors, data remains secure, both while in use and in transit. And after meetings, team members can collaborate using the Webex Teams™ virtual workspace. Messaging and whiteboard functionality can capture all the interactions and information about a project.
Stay agile with a flexible network
Controlling costs is essential in a rapidly changing business environment. And, your network needs to be able to keep up. Cisco Meraki networking products are designed to be managed in the cloud with application visibility, real-time web-based diagnostics, monitoring, and reporting. Even without training or dedicated staff, it's easy to set up a network that gives you control over devices, users, and applications. And, the Meraki Dashboard enables you to see and manage all of your Cisco Meraki networking and security products from a single cloud dashboard.
Small businesses also can take advantage of Cisco security technology so they can work from any device, at any time, from any location.
Cisco Duo helps protect sensitive data by verifying the identity of users, devices, and applications with secure two-factor authentication.
Cisco AnyConnect Secure Mobility Client secures endpoint access to the network so employees can work from any device, at any time, in any location.
Cisco Umbrella provides the first line of defense against threats to protect users everywhere with flexible, fast, and effective clouddelivered security.
Cisco AMP for Endpoints detects and blocks malware and viruses across employee devices.
Cisco Cloud Mailbox Defense is a cloud-native email security platform that puts Cisco security inside Microsoft's cloud. It works to block malware in emails before it reaches users.
Cisco Business Dashboard is a new version of the network management tool with a streamlined user interface to manage the entire network with integrated lifecycle management and automated alerting.  With zero-touch plug and play deployment, and hosted in the cloud or on premises, it allows organizations to set-up, monitor and operate network devices from a simple interface on any device.
Many businesses will be re-evaluating their office footprint in the new normal. New switches in the Cisco Designed portfolio provide flexible, easy to set up,  secure connectivity for businesses who are powering connections across a remote and in office workforce. The two new series of switches provide essential functionality along with advanced security options all while priced to appeal to small businesses.
Small business owners have so many things to do, the last thing they need is to spend their time dealing with IT problems. To remain competitive, they need flexible cloud technology that helps optimize cash flow, productivity, and growth potential.
Cisco has decades of experience supporting remote workers, including our own. We've invested heavily in developing our security tools, and today small businesses can benefit from the same security technology that powers the world's largest, most complex enterprises. Our products work together and are designed for the cloud with simplicity in mind.
Every small business is different, and you should take the time to carefully assess the needs of your organization. Be sure to communicate with employees and get their input about how they work and what they need to be productive. When you're ready, Cisco and its network of partners will work with you to help you connect, compute, and collaborate securely, so you can focus on what matters most—growing your business.