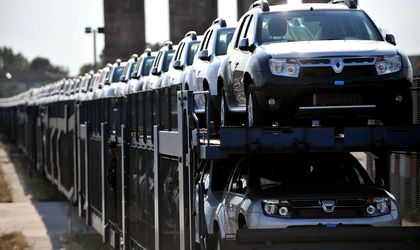 Romania's two car manufacturers, Automobile Dacia and Ford Romania, posted record high turnover and profits in 2017, on stronger sales and production of new models, official data show.
Automobile Dacia, owned by French group Renault, registered a total turnover of RON 23.14 billion (EUR 5.07 billion) in 2017, up 11.5 percent from the previous year, according to the Finance Mnistry data.
Dacia produces passenger cars like Logan, Sandero and Duster at its manufacturing plant located in Mioveni, Arges County.
The second car manufacturer, Ford Romania, which owns a passenger car factory in Craiova (south-western Romania), recorder a turnover of RON 4.82 billion (EUR 1.06 billion) last year, up 30 percent compared with 2016.
The two companies also posted stronger profits in 2017. Automobile Dacia's net profit rose by 18 percent in 2017, to RON 539 million, while Ford recorded a net profit of RON 95.5 million, up 229 percent from 2016.
In 2017, Ford recorded a total production of 49,771 cars and Dacia produced 313,883 units in Romania.
Stronger production expected from Ford
Ford's Romanian plant increased its production by 148 percent year-on-year in the first four months of this year, to 45,319 cars, due to the new model EcoSport, a small SUV produced since autumn of 2017 on the background of the growing market for the SUV segment in Europe.
Ford acquired the Craiova plant in 2008 from the Romanian government and began passenger cars production in September 2009 with the Transit Connect model and later with the Ford B-Max.
The Craiova plant has a production capacity of 300,000 units per year, but Ford never reached even half of the maximum capacity.
But Ford announced on May 22 that it will invest an extra EUR 200 million in the production of a new model at the Craiova factory, and will hire 1,500 extra staff.