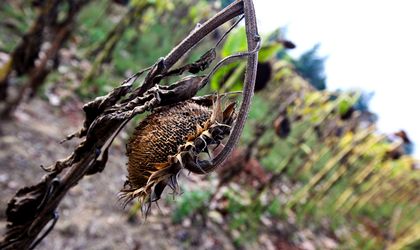 Ask any pundit which sector is the most attractive for investment opportunities in Romania and agriculture will surely be among the top three recommendations. But what exactly should one invest in and how does one go about it? BR asked several local businesspeople and entrepreneurs with a background in agribusiness what they would opt for if they were to start a farming business from scratch, and what advice they would give to newcomers in this sector.
By Simona Bazavan
Andreas Feichtlbauer, executive director at Biso Romania
I would advise someone to invest in agriculture and I would also start another investment myself – because it's one of the major topics right now. Agriculture is related to the world economic situation in terms of food for the people, the energy economy, nuclear energy resources and much more.
The agricultural sector still offers many opportunities in Romania. Good and constant development in this sector should first of all mean investments in production facilities. Secondly and thirdly it should mean creating new jobs.
By production facilities I mean bakeries, animal farms and the meat industry, and not to grow, harvest and sell on the worldwide market. This doesn't create new jobs here in Romania, which is what the country needs.
Grigore Horoi, president of the Agricola group of companies
If I had the opportunity to start a farming business from scratch tomorrow, I would invest in the following three sectors. First of all, field crops, because Romania has a significant and still untapped potential in this sector. However, the government should address the issue of irrigation and thus reduce weather dependency.
Secondly, I would choose poultry farms. It is an industry that has evolved a lot in recent years at global level and is a viable alternative as a source of animal protein. There is a need to align legislation (tax, VAT) and especially to create prerequisites for better predictability. Thirdly, I would choose orchards and vineyards. I don't have a background in these industries but I know that we have land which isn't suitable for field crops but where corn is mostly cultivated. I strongly believe that orchards could provide a significant change for some areas in Romania. They would generate export resources and ultimately contribute to the water balance of those areas.
Monika Puiu, managing director of NHR Agropartners
Yes, I think it is a good business to start from scratch even now. One would need more money now than 10 years ago, but it is still worth it. Without having done any market research, and this being only my personal choice, I would opt for a business mix between vegetables, salads and berries delivered to local businesses such as restaurants, bakeries and markets. It would have to be organic farming. Owners must be fully involved in agriculture. This isn't a business where one invests and then enjoys the profits while sunbathing in St. Tropez!
Ioan Popa, Transavia founder and general director
I would do the same thing, the same way. I started the Transavia business more than 23 years ago. The times were different then and perhaps if I were to start the same project over again I wouldn't have the same success.
With the same determination, I started a new business two years ago and set up the vegetal division to cultivate the grains necessary for chicken feed.
Successful entrepreneurship requires a lot of analysis and evaluation, and this is why I would recommend investing only in areas where one has training and a background. My advice to young people, especially, is to focus on what they are trained for.
George Stanson, business manager Romania, Bulgaria, Croatia, Serbia at Case IH & Steyr Balkan
If I were to establish a startup agriculture business in Romania, my first choice would be a beef-fattening farm. I might be a bit biased about it, mainly because I own shares in an Angus beef-fattening farm back home in New Zealand. However, there are several major reasons why beef-fattening farms would be a good way to go in Romania today. First of all, from the end-user's perspective, the quality of the beef on the shelf today is mostly medium to low (…). Another good reason why I would go this way is that most statistics have shown a positive trend in beef consumption in Romania over the last 10 years, taking serious bites out of the historical pork and poultry consumption. There is also the aspect that being a beef-fattening farmer gives you a way better social life than a dairy farmer, mostly because you don't have to milk every morning at 5 am. If you check out most high-end steak houses in Bucharest, they have quite a big chunk of the menu built on imported Argentinean beef. This is obviously a shame, because a locally produced high-quality beef cut should be at least fresher than one imported frozen from Argentina.
Last but not least, there are many degraded pastures in the west and north-west which haven't been enhanced with new grass for 20 years or even longer. With a very small investment, meaning a simple new generation grass seed (12- or 24-month cycle, with high sugar and protein content) drilled directly into existing old pastures, you can create the best farming environment for free-range  beef fattening, resulting in one of the best end-quality meats.
For all of these reasons, if I were to invest in a farming operation today in Romania, quality beef-fattening would be my first choice.
Catalin Stroe, GM and owner of Ruris
First of all, I think that in order to invest in agriculture, or any other sector for that matter, one must have thorough knowledge of that field as well as the necessary criteria to recruit a team of professionals. I think Romania's agriculture has enormous potential, which can be efficiently exploited. Whether we are talking about large and highly mechanized modern farms or small farms, any project can be successful with the right training and dedication. Unfortunately, Romania's industrial sector is well below the level we would like it to be and it will take time and huge resources to resuscitate it. Given this, agriculture can be an important sector for the economy and it should be supported.
I personally would choose to invest in agriculture, be it technical plants, medicinal herbs, organic crops, or other high added-value crops, and I would also opt for processing facilities for these crops (…). I would recommend integrated businesses which cover cultivation as well as processing as these can be more effective. Also, for this type of business there are insurance solutions which can reduce the risk.
Camelia Sucu, president, Class Living; owner, Iconic Food Wine & Design and Piata de Gros Abundia
I chose to invest in a wholesale market – Piata de Gros. It is not actual farming, but part of a value chain, from an agricultural ecosystem. A wholesale market is located at the crossroads between what the land has to offer and the needs of customers from urban areas, be they small entrepreneurs or large retailers. Piata de Gros relies heavily on the proper functioning of collection centers, which encourage farmers to form associations, primarily for their own benefit. Precisely because the implications are so great and because the entire ecosystem depends on so many variables, the modernization of wholesale markets can only be done through public-private partnerships (…).
This happens all over the world, at least with the major wholesale markets that I've seen. Thereby, the investment that I chose to make is a long-term one (…). I like businesses with a long-term vision and if you asked me for advice regarding a short-term and secure agriculture income I wouldn't know what to recommend.
I like to build long term and create prerequisites for prosperity rather than to quantify the immediate return on investment.
Aurelia Visinescu, winemaker and managing director of Domeniile Sahateni
For me, it is clear that if I started a business tomorrow, I would still choose agriculture. I would cultivate vines and make wine, because that's what I like to do and what I am good at. It is not easy to invest in a start-up without having had contact with the area where you want to do business. One must research, carry out market and feasibility studies and only afterwards invest.
I think there are quite a few opportunities to develop a farming business in Romania, especially given that despite the fact that we are mostly an agricultural country, we have ended up importing most of the food products we consume.
However, it is difficult for anyone to recommend a farming sector that would guarantee success. The recipe for success has a lot of ingredients which have to do with the individual behind the investment.
simona.bazavan@business-review.ro