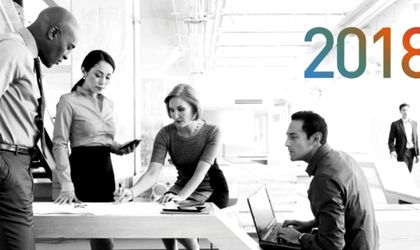 Romanian employees are ranked the world's first in terms of the ease of communicating with their colleagues, regardless of their generation, according to the latest Randstad Workmonitor global report, released in the second quarter of 2018, in which Romania was included for the first time. According to the study, most Romanians prefer to work in an environment where several generations meet and believe that because they are part of a diverse team from a generational point of view, are able to generate innovative ideas and solutions.
"The premiere of the Romanian market in Randstad Workmonitor is an achievement for Randstad Romania and an important contribution that we are able to bring to local radiographs compared to global trends," says Mihaela Maranca, Randstad general manager for Romania. "This edition of the Randstad Workmonitor report identifies some surprising, positive aspects of the abilities, behaviors and perceptions of Romanian employees, which lead to a better understanding of them and may even offer new perspectives on them."
In a proportion of 80 percent employees around the world believe that the main differences that occur in a multigenerational workplace are communication styles. In the top ranked countries, depending on how difficult it is for employees to communicate with their colleagues from another age group or generation, Romania has the lowest percentage (19 percent) than the global average (31 percent).
While, on average, 86 percent of respondents prefer to work in a multi-generation team, 92 percent of Romanian employees have declared this preference, being overtaken only by Chile (93 percent). Romania is at the top of the ranking and appreciates the fact that belonging to a multigenerational team encourages them to contribute innovative ideas and solutions (91 percent), alongside Italy (92 percent), Norway (94 percent) or China (94 percent) compared to a global average of 85 percent. Intergenerational collaboration is considered to be mutually beneficial by 88 percent of Romanian respondents (compared to 85 percent of the global average).
Relationship with the direct superior
Although 83 percent of respondents consider their manager's age to be of no importance as long as they manage to inspire them, 69 percent prefer their direct manager to be the same age or older than them, Romania being close to this medium, 64 percent. Most of the employees (77 percent globally – 74 percent Romania) say that their direct manager has the ability to work with different generations, and 69 percent say that their manager directly deals with the evolution of their career (65 percent).
Connect to social media
In terms of social networking, such as Facebook or Instagram, employees are more often connected with their colleagues (61 percent globally, 77 percent Romania) than with the direct manager (35 percent vs. 45 percent). India has the highest peer-to-peer connection rate, social media (86 percent), and Japan at the opposite end, with 19 percent. Relative to the direct manager's sign-in rate, the same countries adjudicate their extremes: India – 67 percent, Japan -10 percent. Considering age, men in the age group 18-24 are more often connected with their direct manager (47 percent), compared to women in the same group (38 percent).
Romania ranked second in the lowest rate of change of the job Randstad Workmonitor reveals that, globally, the number of employees expected to work for another company over the next six months has increased slightly, resulting in a Mobility Index of 110. Mobility grew most in Turkey (+9), Poland (+7), USA (+5), Brazil and Italy (both +4). The largest decrease is recorded in France and the Czech Republic (both -5), Sweden and China (both -4). Singapore and the UK report no change in recent months.
The real change in the job is stable, standing at 22 percent, and the highest rate is registered in India (46.6 percent). Compared to the previous quarter, the percentage of workplace change has increased in Canada, Mexico, Poland, Singapore and Turkey. In Australia, China, the Czech Republic and Italy, it dropped against the previous quarter. Luxembourg reports the lowest job change rate (8 percent), followed by Romania (12 percent).
The desire to change jobs grew in Australia, Mexico, Poland, Portugal, Spain, Sweden, the Netherlands, the United Kingdom and the US, as compared to the previous quarter. Only in Italy has the job-change appetite decreased, which remains the highest in India (42 percent) and the lowest in Turkey (16 percent), in Romania it stands at 32 percent.
72 percent of Romanians are professionally satisfied
Compared to the previous quarter, the level of professional satisfaction increased in Italy and Japan, but declined in Belgium, Canada, Hong Kong, Malaysia, Portugal, Singapore, Sweden and Switzerland, compared to the previous quarter. Employees in Mexico are the most professional (84 percent) compared to Japan (50 percent), while Romania is at the same level as Great Britain – 72 percent.