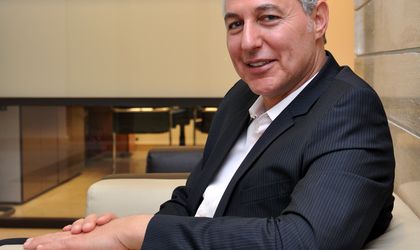 AFI Europe Romania is planning to start three more commercial projects this year, hoping to replicate the profitability of AFI Cotroceni Mall. Will they enjoy the same success as their forerunner or was the developer just lucky? David Hay, CEO of AFI Europe Romania, told BR about the local development plans of the company, which has just obtained over EUR 13 million of financing for the first phase of its office project in Bucharest.

Andreea Ceasar
Market sources say you have the most profitable mall in Bucharest. How did you do it?
We developed Cotroceni at the worst time because it was the middle of the crisis and we delivered at the peak of the crisis, when everything was very grey and nobody was expecting to see the light. We opened the shopping mall with more than a 90 percent occupancy rate and since then we have worked intensively on our mix of tenants, bringing in international tenants and taking out those who didn't work as well as we had expected. Of course there is the design of the shopping mall, its size and its position. But people make it happen.
You are also planning commercial spaces in Bucurestii Noi, Bucharest, Ploiesti and Arad. What should we expect from them?
For the 30,000-sqm shopping mall connected to a DIY store in Bucurestii Noi we have signed the lease agreement with Real. We have already signed 30 percent of the preleasing contracts, and are aiming to be 80 percent leased by the end of 2012. We will start construction this year and aim to finish it towards the end of next year. The advantage of this shopping mall will be that it has a metro station inside – like at Sun Plaza, but better as the connection with the metro station will be shorter. You will walk 20 meters and you are in.
At AFI Place Ploiesti, another 30,000-sqm shopping mall, we have completed the demolition and we will start construction this spring. We have not decided on the builder as we are completing the tender process. Our aim is to open in 2013. It is already more than 50 percent leased with the anchor tenant as Cora. We estimate that by the end of the year we will have it 80 percent leased with most of the tenants coming from Cotroceni. As they have had a good experience with us, they have decided to follow us. As for the retail park in Arad, we are negotiating over the hypermarket, and we intend to start the construction this year.
International retailers are moving into secondary cities. Is this why you're planning two commercial projects outside Bucharest?
Today retailers recognize that they have a very good opportunity to expand, as it is cheaper. The fact that many tenants from Cotroceni are coming with us outside Bucharest makes us feel more confident in the projects, as we know that others have done their studies and come to the same positive conclusion. And as hypermarkets are investing large amounts of money themselves in opening with us, we think we are moving in the right direction.
Do you also have the financing?
So far we don't have it for Bucuresti Noi or Ploiesti, but for Ploiesti you will learn the financing bank in the coming weeks.
Aside from these three commercial projects, do you have any unused land plots?
We have plots in the south and north of Bucharest, in Pipera. We have a plot opposite the former Vulcan factory, where in two years' time we plan to develop a retail and office park. We are starting the design and permitting process. Previously we wanted to do a residential project, but because of the market situation we think it would be premature.
Are you considering returning to the earlier idea of building residential?
No. The group's strategy is to concentrate on commercial developments like retail and offices. In Romania we won't do residential, neither today nor in the near future.
You have obtained over EUR 13 million in credit for the first office building of the five included in the AFI Business Park Cotroceni project, a real estate project, in fact, that obtained finance from Unicredit Bank Austria in these hard times. How did you do it?
Because of the new European rules and the new constraints imposed by the Basel III standard, banks are more reluctant to finance real estate investments. So it was very difficult, but due to our good relationship with the banks and the fact that we have never disappointed them we succeeded. Unicredit has financed our projects in Serbia, the Czech Republic and now Romania, building a positive relationship. In these times if you have a good relationship and a sustainable project, you will obtain financing. If one of these criteria is missing you won't.
When you say it was difficult, does this mean that the bank's requirements were hard to fulfill?
I am not talking about the terms of the contract, but the whole credit approval process. I think that only very experienced developers can fulfill the banks' present requirements.
There are plenty of newly built office spaces with one tenant per floor or just sitting empty. What are your expectations for your own project?
If you look at these offices most of them are located in Pipera or having legal problems. But if you look at the market in the city center you will see that the vacancy rate is very low, approximately 5 percent. Our project has three main advantages: location, parking spaces and the possibility of the tenant expanding within the current location, as we will be building another four buildings next to the actual project, totaling 70,000 of leasable sqm. Large companies are looking for this option, which is why we do not deal with small firms and lease a minimum of 1,000 sqm. For our own project we target as tenants IT companies and back offices of insurance companies or banks, as we see a high demand from these segments, with potential to expand in two or three years to the other office spaces which will be built. Currently we are negotiating 5,000 sqm and all our negotiations of preleases are with IT companies. Next week we will probably announce our first tenants.
This year many tenants will end their five-year contracts in office buildings. What will you do to bring them to your project?
These tenants are our target market. And although the rent is an important factor for all companies, I believe our solution to their expansion plans, as well as parking spaces and location, is an opportunity.

By what percentage did the cost of building fall between 2008 and 2011? It seems all developers are taking this into consideration as the start of many projects is being announced this year.
Indeed, the amount of construction in the market has decreased considerably, bringing costs down. The cost of building materials has also fallen. When we were building Cotroceni it was very difficult to find a construction company. Today it is very easy as prices fell by roughly 20 percent between 2008 and 2011, which is a lot.

After building the projects, will sales come?
A developer by definition develops and sells. Our strategy is to develop, hold for some years and then sell. Last year we saw the best proof that we are doing a good job. In the Czech Republic we built Palac Flora shopping center for approximately EUR 73 million, sold half of it in 2004 to Avestus Capital Partners for EUR 120 million and last year Atrium European Real Estate acquired the project in Prague for EUR 191 million from us and Avestus Capital Partners. This is the kind of investment we are looking for.

Is AFI Cotroceni Mall also for sale?
At the moment we have no intention of selling Cotroceni, but once the market gets back on its feet we will reassess the situation. Many businesspeople and investment funds are interested, but we are not on the sales market. This project is bringing in a very good income and in this period cash flow is essential, so it is a good property to keep. A study conducted in 2011 regarding retailers' sales at AFI Palace found that they went up year on year by 23 percent, which is an excellent result. In addition, we have a good number of visitors. During December, over the weekend we had traffic of 84,000 people per day.
Did you expect this traffic?
Not 84,000 visitors; we thought 70,000-75,000. The figures show we had 70,000 visitors on weekdays.

So, tenants didn't ask you to lower the rent?
The tenants understand the quality and success of the project. Those who asked are no longer here, as they were the ones who were not performing well. And tenants that are not performing well leave or are advised to leave.