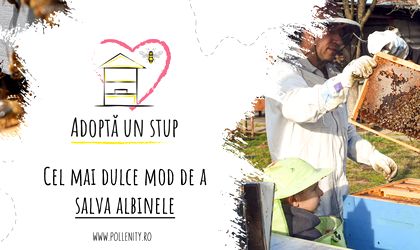 Pollenity is a Bulgarian-based company that designs, develops and implements innovative technologies, methodologies and business practices in order to protect honeybees. The company, launched in 2015, already has a proven business-model, works with clients from more than 15 countries and is now entering the Romanian market.
Honeybees play a crucial role in pollinating many of the foods that make up a significant portion of the human diet. An estimated 75% of global food crops depend, at least in part, on pollinators, including honeybees (according to FAO). Furthermore, the contribution of pollinators to global crop production has been estimated to be worth between $235 and $577 billion per year.
The impact honeybees have on our ecosystem and health is critical, and Pollenity allows both individual users and corporations to contribute their perseverance through its multiple offerings:
Adopt-a-hive business concept built on transparency and traceability
Remote beehive management using proprietary IoT technology
Research & Development with top European universities
ESG platform for companies committed to creating sustainability
Providing users with healthier alternatives to sugar consumption, Pollenity supports local producers, offering them financial stability, and contributing to a development of a sustainable environmental future.
Pollenity was launched in 2015 in Bulgaria by Sergey Petrov and since then, raised pre-seed and seed investment, got to over 200+ corporate clients, 50+ supported beekeepers and over 4000 adopted hives. The company has been named "The best IoT startup" by CESA Awards and has received wide international recognition for its unique approach.
In Romania, Pollenity is already working with 6 beekeepers from Moara Vlasiei, Racari, Hoghilag, Romanu village, Danesti and Caras Severin and the portfolio of beekeepers and bee related products is about to expand in the coming weeks.
"We are thrilled to announce our expansion into the vibrant market of Romania, where we anticipate leveraging our shared cultural and philosophical values, as well as facing common socio-economic hurdles to set a new standard for the intersection of technology and entrepreneurship, thereby advancing the EU's commitment to sustainability while creating a global blueprint for emulation." said Sergey Petrov, CEO Pollenity.
Through the "Adopt a Hive" program, Pollenity enables people and companies to get involved and directly support a beekeeper and their hives that have over 60.000 bees each. Clients are benefiting, among others, from:
100% natural honey delivered monthly from their chosen beekeeper
Family/company trips to visit the hives
An interactive profile with details about the adopted hive and the beekeeper
For companies: annual reports & hive branding
A digital adoption certificate
For more details about Pollenity and the Adopt a Hive program, please check pollenity.ro.