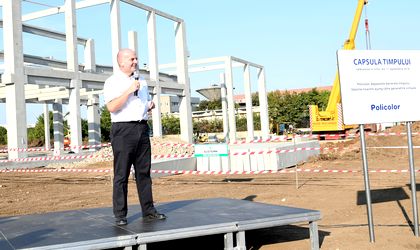 Policolor Orgachim group of companies sold its 13.9 hectares platform in boulevard Theodor Pallady, and decided to relocate the paint factory in Timisoara Boulevard where it has acquired a 2.5 hectares to build the new factory and warehouse an EUR 4.5 million investment.
The new CEO of Policolor, named in May 208, David Jordan, announced today that the new factory will start production in April 2019 with more than double capacity, from 11,000 tones, to around 26,000 tones.
"My brief is to take the company to a different stage. We will keep the 350 employees and we are estimating a turnover of EUR 72 million this year, "said David Jordan.
The entire work is carried out by Ecoterm, which was named at the beginning of this summer as general contractor and constructor of Policolor factory and warehouses. Only the deposits will occupy a total of 3,500 sqm, this investment aimed at increasing the quality and quantity of Policolor products, as well as the ability to deliver solutions faster to customers.
The company will start moving part of the factory in December and part of the equipment will be taken to the new factory, and the other part will be moved to Ruse Orgachim factory.
The Bucharest factory will produce paints, plasters, enamels, varnishes, and related products (primers, primers, etc.) based on water, while the product based on solvents will be produced in Ruse.
Policolor introduced in the offer hypoallergenic spore, and decorative creative effect, a paint as a writing board.
As far as the former Policolor platform in Pallady boulevard is cleared and the whole land will be cleared completed in January-February and put to the disposition of the buyers Gabriel şi Alina Dobra şi Raul Ciurtin, former majority shareholder of Albalact.