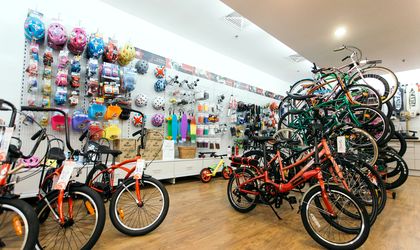 Pegas, the most famous bike brand in Romania, is going international after listing on Amazon markets. In addition to the local partners in Italy, Luxembourg, Germany, Great Britain, Sweden and Poland, Amazon offers access to the entire European market and the implementation of a successful project will be followed by expansion to the United States of America.
"We did tests in the first six months, and Amazon's demand for certain products exceeds even a few dozen times the market's absorption power in Romania. We will list the five European markets Spain, France, Germany, Italy and the UK, from where products can be shipped throughout the EU," said Andrei Botescu, Pegas CEO.
At the same time, Pegas is considering increasing the number of stores in the country, expanding the domestic and international distribution network and constantly upgrading the range of products. Thus, by the end of 2020, Pegas will open at least 10 stores in addition to existing ones, and brand products will reach 400 stores and 5 large retail chains, while EUR 3 million is the value of a project with European funding which will provide product research and development and the opening of an integrated production line to our country.
In addition, this year, any entrepreneur that wishes to become part of the Pegas story can purchase a franchise, with some dozen stores already open to this system by the end of 2018, both in the country and abroad.
Besides increasing the number of models and expanding the distribution sector, Pegas has developed the first Ape Rider's non-parking smart parking system in Romania, which was implemented in May this year, providing 2000 people with bicycles.
"Pegas aims to become a benchmark for our evolution as people. If you are a child, you will surely want to ride a bicycle, if you like adrenaline or you love mountain walks, Pegas has solutions for that. If you are retired, but you do not want to quit, Pegas has a dedicated range for people in this category. If you want alternative ways of transport in your city without polluting it, Pegas has a dedicated range of bicycles and electric vehicles," said Mihai Chipcia, sales director of Pegas.
A famous brand during the communist era, Pegas disappeared from the market after 1989 to return in force in 2012. With an initial investment of 70,000 euros, entrepreneur Andrei Botescu bought the brand and along with an enthusiastic team started production again, preserving the line that made Pegas famous and adding modern elements.
Pegas sold just 500 bikes in the first year after the relaunch, but it steadily grew to selling over 25,000 units annually and the company's turnover jumped to RON 8 million in 2017.
Discounts between 23 percent and 69 percent for one month, 6 years after launch
On August 23, Pegas celebrates six years since re-launching on the Romanian market, offering discounts starting at 23 percent for his famous bikes, as part of the "Young Leaders" campaign. Instead of the traditional August 23, "Golden", the Romanian brand proposes a "Black Friday" in the middle of the summer for all who want to pedal into a healthy and active lifestyle.
The promotion will be available for a month, both online and in all its own stores in Bucharest, Suceava, Timisoara, Constanta and Ramnicu Valcea, but also in partner stores.