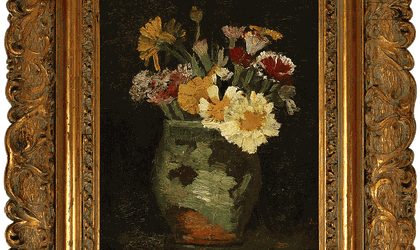 A rare and important painting bearing the signature of Ioan Andreescu will be put for sale at the Former Masters of the Romanian Art, organized on May 12 by Artmark. Two other works, created by Nicolae Grigorescu and Stefan Luchian are expected to stir important offers.
Pot with Spring Flowers (Ulcica cu flori de primavara – in picture) is the center piece of this auction, painted by Ioan Andreescu and, until now, part of the Gheorghe Bellu family collection. Hadn't it been for Andreescu's premature death at 32, the painter is believed to have reached a level of appreciation larger than Grigorescu, for example.  The painting has an estimated value of EUR 125,000 – EUR 175,000.
Other important paintings are Rucar Hearth (Vatra la Rucar), by Nicolae Grigorescu, estimated at between EUR 50,000 and EUR 80,000 and Peasant Girl (Tarancuta) by Stefan Luchian, woth between EUR 20,000 and EUR 40,000.
The 28 works, belonging to paintings from predominantly the nineteenth century, will be auctioned at JW Marriott Bucharest Grand Hotel. Other works, besides the above-mentioned ones, are signed by Constantin D. Stahi, Carol Popp de Szathmary, George Demetrescu Mirea, or Sava Hentia. Another auction will take place on May 12, The Decorative Art and Design auction. All the works may be seen between May 7 and May 12 at the hotel, in the 11.00 – 21.00 interval.
Corina Dumitrescu