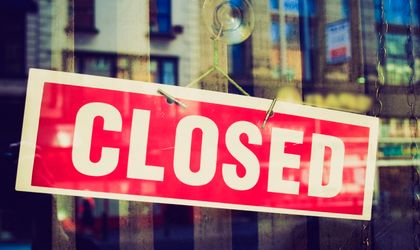 Over 62,500 companies and PFAs (sole traders) were closed down in Romania in the first five months of this year, 75 percent more than last year, according to an analysis conducted by Sierra Quadrant. In the same period, more than 68,200 companies and sole traders were registered, according to the National Trade Registry Office. 
The number of closed firm is a negative record for the Romanian economy, an alarm signal given that many of these companies were active in areas with extensive horizontal development potential such as trade, manufacturing, transport and storage.
In an economy where financial lock-in is widespread, with the late payment of bills being almost generalized, the closure of a firm may have significant consequences on the economic chain.
As more than 90 percent of companies are poorly capitalized, and any payment incident is likely to lead to a blockage of business, the disappearance of tens of thousands of companies may have significant consequences.
Statistics from the Trade Registry show that over the first five months of this year, more than 62,000 companies and PFAs were closed, 75.66 percent more than in January-May 2018 (35,597).
Many of them were closed ex officio because they did not reduce their activity classes within the timeframe set by law, 5 for sole traders and 10 for Individuals (II) respectively. Others were closed because they couldn't keep up with the challenging economic environment.
"They are, in general, micro-enterprises and small firms without financial strength and unable to cope with business challenges. In an economy where vendor credit is fashionable and invoices are paid, on average, in 60-90 days, for a small firm that has extremely low chances to get a funding line, survival is linked to how they manage to secure their cash-flow. Faced with such challenges, many choose to give up on the business," say Sierra Quadrant experts.
According to statistics, most of the companies closed down between January and May 2019 were registered in Bucharest (6,572), more than 1,000 compared to the same period last year. On the following places are the counties:
Iasi (3,623)
Maramures (2,534)
Bacau (2,391)
Prahova (2,327)
Cluj (2,129)
The counties with the fewest closed companies were:
Covasna (469)
Ialomiţa (458)
Harghita (503)
Giurgiu (519)
Tulcea (544)
Botosani (687)
The highest growth rate of closed companies was recorded in Teleorman, 212.57 percent, with a rise from 342 companies radiated in January-May 2018 to 1,069 companies radiated in the first five months of 2019. The Sierra Quadrant analysis shows, for comparison, that 80,181 firms were radiated all year round by 2.57 percent less than in 2017 (82,295 companies).
"If the trend continues in the second semester, it is possible that there will be over 100,000 companies closed in 2019, a phenomenon similar to the situation in 2010 when, at the height of the economic crisis, the number of radiated companies increased by 292 percent compared to 2009 and reached 171,146 companies and sole traders," analysts estimate.
Trade: a challenging business
In an economy where consumption has become the main engine of the economy, trade is at the forefront, for better or worse. More and more investors are opening businesses in this sector, but beyond earnings and significant profit margins, this sector is also the most challenging business environment.
Payment delays, financial bottlenecks, insolvencies, and bankruptcies are a chain in this sector, ranked first in negative economic statistics. Closings are at a significant level, as trade attracts most of these procedures among all fields of activity.
According to the Sierra Quadrant analysis, 19,155 trade firms and PFAs had closed by the end of May, double than seen in the similar period last year (9,446). Trade is followed by agriculture, forestry and fishing with 11,665 closed companies, 5,984 construction, processing industry (4,950), professional, scientific and technical activities (4,704), information and communications (2,352) and transport and storage (2,108).
On the opposite side, the sectors with the fewest companies and PFAs closed were in:
the public administration and defense sector (6);
activities of private households as employer of domestic personnel (6);
activities of private households producing goods and services for own consumption (6) and mining (60).
The number of closed companies in agriculture (153 percent), manufacturing (108 percent), trade (102.7 percent) and construction (100% percent) increased most.
"Beyond the excitement, as we estimate in the previous analysis, we are witnessing a beneficial cleanup of the business environment by troubled companies, and the deletion is the last step. Changes to insolvency law have made firms in the field of managing companies in difficulty optimize their activity. Many troubled companies have been rescued, others have closed down with the liquidation of assets, and the effects are already seen in the economy," says Ovidiu Neacsu, associate coordinator of the Sierra Quadrant.
In May 2019, more than 85,000 companies reported problems, ranging from insolvency, business suspension, dissolution, and cancellation.
Beyond statistics on closed companies, 14,157 companies and PFAs were dissolved (down 10 percent from the same period in 2018), 2,636 went bankrupt (-29 percent), and 6,637 suspended their activity (-21 percent).
Across the economy, at the end of May, 960,345 companies and 373,423 PFAs were active, up 3.88 percent over the similar period in 2018.
According to Sierra Quadrant, even if the number of insolvencies, suspensions and dissolutions of companies is lower than in 2018, the outlook for the second half of the year is not as favorable.
"In the real economy, the challenges posed by payment delays, inflation and exchange rate developments, labor shortages and rising operating costs significantly affect the business appetite of investors. The external signals, from the evolution of the oil price to the gold price (the preferred retreat of investors) and the prospects of a possible new economic crisis are amplifying the expectation that many investors have adopted. This phenomenon will increasingly mean an increase in the financial bottleneck, a decrease in orders in the economy which, combined with a potential depreciation of the RON and an increase in utilities prices, from fuels to raw materials, will significantly reduce economic dynamics. It is not excluded, therefore, that the second part of the year will mark a worsening of the Romanian business climate," says Sierra Quadrant analysts.
The analysis was based on the business environment dynamics statistics submitted by the National Trade Registry Office for the period January – May 2019.