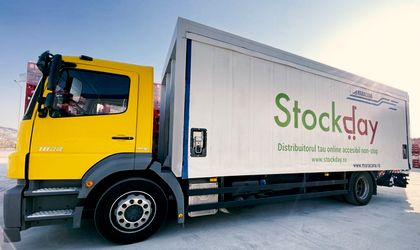 Two years after Coca-Cola HBC Romania became shareholder of the B2B e-commerce platform developed by HEINEKEN Romania, Stockday announces over 740,000 orders and over 2.7 million hectoliters of beverages successfully delivered.
The Stockday platform targets HoReCa and traditional retail customers and currently provides distribution of all products from the HEINEKEN Romania and Coca-Cola HBC Romania portfolios, in Bucharest and 10 other counties, with a 53% increase in volume and a 9% increase in the number of clients served compared to 2021. Available 24/7, the online platform gives customers direct access to over 60 brands of beer, cider, carbonated soft drinks, juices, water, energy drinks, teas, coffee, and premium spirits, to campaigns and promotions, as well as streamlining end-to-end processes run by customers.
In 2021, Coca-Cola HBC Romania became a shareholder of the B2B online commerce platform by acquiring a stake from HEINEKEN Romania, representing half of Stockday's share capital.
Building on the new market reality and digitization trends, the partnership was launched with the aim to streamline and improve the business of distributing products to traditional retail and HoReCa customers.
Stockday provides HoReCa and traditional retail customers with customized offers. Moreover, customers have visibility of available stock, which is updated in real time, and they benefit from complete, on-time deliveries. Also, it is a tool that helps them easily monitor the status of their orders, payments, and invoices.
"The partnership concluded two years ago strengthened the position of the Stockday platform on the FMCG market in Romania. The two strong and complementary portfolios that our customers have at their disposal on a single platform represent a considerable advantage for them nowadays when time resource efficiency and speed of delivery are key elements in the success of a business." – Virunga Deciu, General Manager, Stockday.
—
"Stockday represents an important pillar to our vision of being our customers' 24/7 beverage partner. The partnership we entered two years ago has made a considerable contribution to strengthening this vision by adding value to our customers. They have the opportunity to benefit from all the advantages provided by this digital tool, especially to evaluate and improve their own business results." – Jovan Radosavljevic, General Manager, Coca-Cola HBC Romania.
—
"For us, HEINEKEN Romania, one of our guiding principles is to keep customers and consumers at the heart of our business. We are constantly looking for new ways to offer innovative products and services of the highest quality. Thus, 6 years ago, inspired by the trend of digitalization and the growth of e-commerce, we created a unique tool in the local FMCG industry – the Stockday platform and we continue to focus on its further development." – Dan Robinson, Managing Director, HEINEKEN Romania.
The platform's development plans involve the inclusion of new functionalities, with the objective of Stockday becoming a "one stop shop" in the long term, by expanding the portfolio with products from several companies.