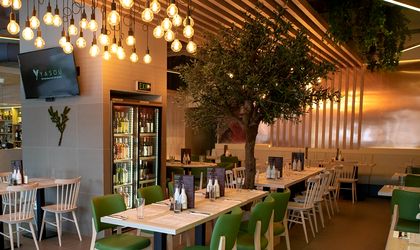 The owners of OSHO restaurant, the unit the Primăverii neighborhood in Bucharest and Orotoro fast-food restaurants, invested EUR 300,000 in Yasou, the latest Greek restaurant. Located in the north of the capital, on Calea Floreasca, Yasou has a total area of ​​230 square meters and a capacity of 80 people.
The authenticity of the taste in the new restaurant is given by the quality of the ingredients used. Up to 80 percent of the raw material is imported from Greece, from organic farms and local microproducers. A considerable part of the investment is represented by the equipment with which the kitchen is equipped, such as Josper grills, used in the world's top restaurants and renowned chefs.
"Yasou introduces a new concept in the casual dining landscape of Bucharest, but at the same time aligns with the philosophy and values ​​applied to OSHO and Orotoro. Whether we are talking about premium restaurants or fast-serving restaurants, our strategy has always focused on the quality of our products and raw materials, on the level of performance of cooking equipment and cooking experience. With the opening of Yasou, our portfolio of restaurants reaches 12 units in Bucharest and across the country, and we intend to continue expanding it in the next period," said Georgios Malideros, founder and shareholder.

"Floreasca has had a spectacular development in recent years and continues to provide opportunities for developers. Over time, it has become an important pole for residential, office projects, but also a destination for a night out. What we wanted was to find the point where the Greek – the Mediterranean flavors, the specific way to cook and enjoy the dishes – meets the city of Bucharest, the spirit of the city in one of the most effervescent areas. And through Yasou we are convinced that we are able to bring the best from Greece, kept in the authentic ingredients and in the way of preparation, in the heart of Bucharest," said Andrei Trandaf, general manager and shareholder.
The Yasou Restaurant is owned by Georgios Malideros, the owner of Osho Restaurant, in Primaveli Boulevard, Bucharest, and the Orotoro restaurant chain. The menu and reinterpretation of the Greek recipes bears the signature of Chef Iosif Stefanescu, Head Chef of all the restaurants owned by the founder Yasou.
Yasou is a Greek restaurant, located in the northern area of ​​Bucharest. Yasou combines Greek cultural elements with the vibrant spirit of Bucharest. Hence, cosmopolitan reinterpretations of the traditional Greek recipes, which bear the signature of Chef Iosif Stefanescu, and the minimalist urban design result. In other words, 80 percent Greek and 20 percent Urban.