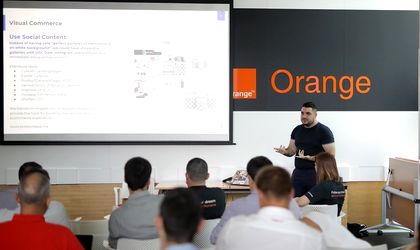 Romanian accelerator Orange Fab has been encouraging local business innovation since 2017. What the Orange Group seeks through its global network of 14 accelerators is to connect groundbreaking business plans with corporate partners that have access to growth resources during the entire 1-year program.
In light of the idea that innovation never stagnates, Orange Fab Romania always keeps its doors open, by discarding admission deadlines altogether. In other words, all startups that nurture products or services at the cutting edge of their industries are free to enter the program at any given moment.
Orange Fab Romania selects startups that fit one of the several domains of interest: Smart Territories, Future of life, Security, Networks of the Future plus the latest additions consisting of Smart Retail, IoT, Fintech, Lifestyle, Media & Entertainment, and Digital Education. This was a window of opportunity for Product Lead (a martech platform that creates meaningful customer journeys through smart social data) and Morphl (solution for boosted product KPIs) to join Orange Fab Romania.
ProductLead.me Benefits Inside Orange Fab Romania 
Customized Development Plan – From day one, Startup Programs Manager Monica Obogeanu worked with Chief Exponential Officer Alexander Stoica Marcu to understand the business model and find improvement opportunities. In the end, Monica Obogeanu mapped out a development plan that Product Lead can carry out in the next twelve months by tapping into the resources, partners, and events that Orange Fab Romania puts at their disposal. The digital startup has found tremendous support in Orange Fab Romania professionals and in their way of guiding, a promising team towards international ascension. 
"We strive to develop win-win collaborations that benefit the startup, as well as our internal teams or the Orange customers. The open conversations we've had with Alexander from day 1 brought a lot of knowledge and sparked interesting ideas on both sides. It's great to work with professional and constructive teams like Product Lead and I'm excited about what we'll develop together," said Monica Obogeanu, Startup Programs Manager at Orange. 
Business Partnerships – A month into the program, Product Lead was offered the chance to be part of the Orange Group business activity in Romania. The startup is now enhancing marketing activities for Orange Romania working closely with Florin Spataru, Digital Marketing Manager, offering the full core technology.
Alexander tells us that Product Lead started a marketing upgrade with Orange Romania by supplying powerful social media insights regarding their own profiles/ competitors/ influencers using in-house AI&ML technology. The strategy continues by translating the data into tips and tricks on how to improve their social media game and maintain their leading position. Product Lead applies these actionable insights to a set [DOC1] of visual messages built in-house with an automated visual generator. This way, Orange Romania benefits a faster and more powerful process of creating visual material for their daily organic and paid advertising efforts. The entire enhancement cycle ends with the distribution of these highly converting visual assets at key points where consumers meet with the brand and its services. 
"We are happy to collaborate and trigger new tests with any Romanian Digital Marketing startup. We appreciate ProductLead's approach and we hope to be long-term partners," stated Florin Spataru, Digital Marketing Manager at Orange. 
In a corporation this big, decision-makers need the expertise of external teams devoted to cutting-edge technologies that empower the latest niche sectors. By partnering with small companies with huge drive, international enterprises can keep their solutions in alignment with local trends and adjust services to meet current demand.
Modern workspace suited to small companies – At Product Lead, teams are always on the go, attending one business meeting after another, pitch opportunities, conferences and partnership meetings. For startups like Product Lead, Orange Fab Romania secured flexible office solutions in easily accessible hubs in Bucharest, Oradea, Iași, Timișoara, and Piatra Neamț. Product Lead benefits from professional desks at TechHub Bucharest where the schedule is flexible and they can meet tech enthusiasts like them with whom to exchange views on modern issues.
Be on the shortlist for Orange Digital Ventures – Orange Fab Romania takes under its wing an array of innovative startups that activate in complementary fields of expertise. It's only natural that Orange Fab Romania's selection criteria match those of Orange Digital Ventures', as both are core innovative projects under the same parent company, Orange Group.
Orange Digital Ventures is an investment fund with an interest in disruptive business ideas set to modernize current industry standards. Each startup that operates at the cutting edge of the industries of the moment has a chance at up to 150 million euros in investments.
"We are excited to be part of the Orange Fab Romania experience and we plan to take full advantage of our one year together. Working inside a receptive startup accelerator has already opened for us a slew of opportunities, from access to resources at scale to new clients and amazing mentorship that actually make a difference for a booming startup," said Alexander Stoica-Marcu, Chief Exponential Officer Product Lead.