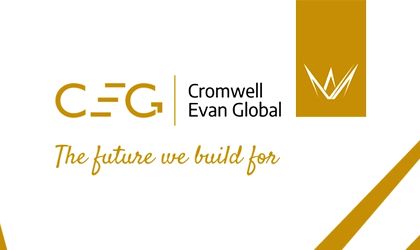 Oana Motoi, a 10-years expert in fiscal consultancy, launches Cromwell Evan Global, a company offering tax & business advisory services, in association with law firm VERNON | DAVID. The investment in the start-up is EUR 100,000.
"The mission of the company is to approach a proactive attitude towards all financial requirements, without settling for a reactive approach. The start-up investment is EUR 100,000, the company functioning with two offices in Bucharest and Chisinau. Our target is to reach in five years among Top 3 of independent tax companies", said Oana Motoi, founder & managing partner Cromwell Evan Global, adding: "The association with a law firm such as VERNON | DAVID honors us and we are thrilled to start our first projects together."
VERNON | DAVID is a boutique international law firm, launched by Charles Vernon and Daniela David over 10 years ago. Charles is an American citizen, but he is been living in Romania since 1997. In 1997 he worked for Taylor Joynson Garrett in Bucharest before being hired by Ernst & Young in 2001 to manage their legal activities in Romania & Republic of Moldova.  In 2008, he and Daniela formed VERNON | DAVID. With 5 partners and 30 associates and staff, the law firm has worked on some of the largest deals and transactions in Romania, including advising TMK with its acquisition of Resita Steel (currently the largest steel producer in Romania.
"The majority of our clients have been with us for many years, from the time we have established the company. We are proud to have an outstanding team of lawyers who have the talents and skills to understand the businesses we are advising on", said Charles Vernon, managing partner VERNON | DAVID, adding: "We have known Oana for many years and we appreciate her professionalism. We are delighted by the new association and we are convinced that we can offer services at the highest standards"
For this service, Oana already collaborates with two acknowledged experts in the areas of private banking and energy: Alex Massaci (with an experience of 18 years within PwC and former director for Romania of Gutman Bank) and Serban Tiganas (a manager with 40 years of experience in the energy industry, consultant of World Bank in this area and founder of TEB Energy). The list is completed by consultants with proven experience in industries such as IT or real estate, areas extremely active on the local business environment.
For every EUR 100 million investment, EUR 5 million goes to consultancy
The best year for foreign investments in Romania was 2008, when they reached EUR 9.5 billion. Although, Romania had registered record economic growth both in 2016 and in 2017 (4.8 percent and 7 percent), the level of foreign investments remains a low one. For 2018, the National Bank (NBR) has announced an advance of 19 percent for the first seven months of the year and, if the growing pace remains the same, Romania will exceed the four billion EUR threshold, but even so, the level will be at 50 percent as it was 10 years ago.
The main problem of Romania in attracting foreign investments remains the unstable and complicated fiscal and legal framework. The 360 Consultancy concept has emerged from the working experience together with investors, which need a large spectrum of advisors when they plan a new investment. With this new service, CEG becomes the coordinator of a business association in the area of professional services, together with technical experts in different industries (energy, private banking, IT or real estate), offering integrated consultancy. This goes beyond just recommending a team of professional consultants, the company becoming the integrator which coordinates all the experts – fiscal, legal or technical- needed in planning and implementing a new investment.
According to the estimations of CEG, for a EUR 100 million investment approximately EUR 5 million goes to consultancy fees, without counting the costs with the personnel that supervises all the army of consultants. The Consultancy 360 concept reduces those costs up to 20 percent, the company becoming a single point of contact in relation with all the advisors and technical experts involved.
The new concept also applies for local entrepreneurs. In a fully developing economy, businessmen look for new opportunities. The Consultancy 360 concept eases the investment process and reduces the costs of entrepreneurs. It is encouraging to see that new generations are not afraid of entrepreneurship.