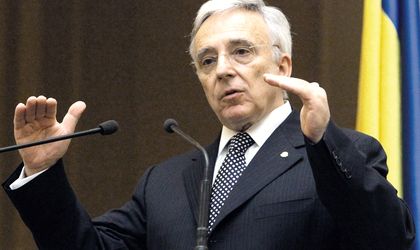 Forcing the euro convergence or a sluggish convergence are both harmful, and a coherent mix of policies is essential to keep the economy on an upward path without creating tension in the macroeconomic balance, said the governor of the National Bank of Romania (BNR), Mugur Isarescu, at the conference "Romania 2030: How can we recover the gaps between Romania and Western Europe? ".
"If the optimal level of real convergence for ensuring the success of joining the euro area is still a controversial matter, and the Commission will probably publish in December the report on convergence in the euro area, maintaining convergence on the right path and its sustainability are, in my opinion, the most important aspects. In order not to derail, the process of catching up must be conducted at an appropriate pace, so gains on this front are not affected by the danger of a steep damage, "said Mugur Isarescu.
The BNR governor stressed that "our efforts need to be well dosed" because "convergence is not a 100-meter sprint, but a marathon." He also said that as much as we would all like a quicker convergence with Western living standards, it would be desirable to treat real convergence not as a race in which the fastest is the most appropriate, but as a complex process that gives the competitor the opportunity to take advantage of most potential benefits while avoiding excessive risk-taking.
"Worse than progressing slowly on the road of convergence is to wander the road. Being and staying on the right path in the approach to recovering gaps is what we should be permanently preoccupied with if we want to preserve the coherence of the economic integration process," said Isarescu.
The Governor also showed that the BNR has not developed an obsession with inflation, but it is concerned with it because of the interest rates.
"We are interested in inflation and credibility because of interest rates. Otherwise, if we do not bring down the inflation, the interest will go up and this will discourage economic growth. We have interest rates below the inflation rate. We say that inflation is not actually caused by excess demand, but by other factors," said Isarescu.
The BNR governor also noted that inflation will reach 3.5 percent at the end of the year, and then will go down to 3 percent.