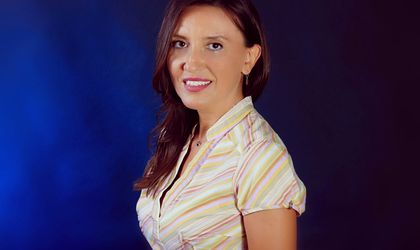 Those who work with a business optimization consultant often go to an expert when the company's problems are already at an advanced stage, says Diana-Maria Georgescu, a specialist with about 15 years of experience in business optimization and founder of Delta Guide.
Diana-Maria Georgescu has been working in business optimization since 2005 and became an entrepreneur in 2016 when she launched Delta Guide. In 2019 she launched Business Soul2$oul, a business model where the company focuses on people and less on profit.
"The approach of a business optimization specialist is similar to what an expert does in a large management consulting company: an assessment of the business at all levels. The difference I bring to the market is the business model I have created, Business Soul2$oul, which aims to help companies to change the current business paradigm from an exclusive focus on profit to a focus on people. When I say «people focus», I mean applying it concretely, as an essential form of working down to the cellular level of the business in question", explains Diana-Maria Georgescu, founder of Delta Guide, a business optimization consultancy.
The company works with corporate clients in areas such as IT, market research, HORECA, and individual clients who want personal and vocational development consulting, coaching, mentoring, or business optimization services.
Main customer issues
"If we're talking about business-to-business customers, the problems range from processes that are too long, too cumbersome, or not being followed by employees, to difficulties in achieving projected profit margins, to employees who are demotivated or not performing in their existing roles, to dysfunctional organizational structures. Business-to-consumer clients are most often focused on a career change, personal or professional development, and well-being issues. An objective internal assessment of business processes and people, their motivation, and fit with their roles can help any company. Eliminating redundant steps and using employees in roles that fit them can increase productivity and business agility. I don't recommend firing employees to preserve the profit margin for the short term. This is an approach that belongs to the old and already outdated business paradigm. In the long run, such approaches will erode both the image of the company and the type of employees it will attract", states Delta Guide founder.
Corporate and individual client budgets
Corporate clients spend on average 1-2% of their turnover on such services, depending on how extensive the optimization process is.
On the other hand, individual clients who are focused on personal development allocate monthly budgets of even 1,000-1,500 lei for personal development services. Those who choose international personal development courses (with foreign trainers, held outside Romania) can invest up to 2,000-2,500 lei per month, including travel, accommodation, and food.
People who do not make personal development a priority allocate on average a monthly budget ranging from 50-200 lei.
"Most business issues are at an advanced stage when a client comes to us. Unfortunately, there is a general culture of avoiding contracting an external provider for impartial assessment of business difficulties and having an objective person to coordinate the optimization process, who can address what is avoided to be discussed even in senior management teams. There are situations where, although the losses or difficulties are obvious, the organizational culture is not prepared to address the 'elephant in the room'. In such situations, the change they want is not implemented and the process is not completed", affirms Diana-Maria Georgescu.
20% increase in profit margin thanks to focus on people, not financial results
Delta Guide's priority for this year in the corporate client segment is to reach those business leaders willing to try a new approach to their business by piloting and implementing the Business Soul2$oul model.
"While the «people focus» versus the «profit focus» we promote through this model may only seem like a «fairytale» to leaders focused on moving numbers, our experiences so far with other companies have resulted in up to 20% profit margin growth within a year of implementation or a complete repositioning that has resulted in rethinking the business from the ground up for smaller companies. I would like to see a proactive approach by large companies towards the new business paradigm that is taking hold step by step. Implementing change from a reactive position, when you have no choice, becomes much more difficult for everyone involved: management, employees, customers, than if you do it progressively and assimilate as naturally as possible the new direction of the evolving business environment, especially with the installation of Artificial Intelligence in as many businesses as possible. An in-depth analysis and accommodation of new trends in the classic business context, shifting the focus from profit to people, can solve many problems that may later become serious and urgent", says the founder of Delta Guide.
Since 2022, Diana Georgescu has represented Romania as a mentor in a project coordinated by Early Warning Europe under the umbrella of the European Union. In this project she trains people who want to become mentors for companies which are going through a crisis, on the verge of insolvency or even bankruptcy.
In 2020 Diana-Maria Georgescu founded the WomenEsteem International Association based on the local community WomenEsteem International launched at the end of 2017. The association's mission is to support women in different sectors, with the organization promoting collaboration instead of competition between women. The association operates with an international team from Romania, Germany, Spain, Switzerland, France, the USA and Canada and publishes the digital magazine "WEI FOR YOU".
This year's objectives for Women Esteem International include increasing the visibility of women in the community internationally, increasing the number of partnerships and accessing funding for the association's development.