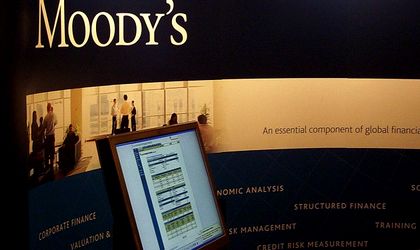 Moody's Investors Service maintained the BBB-/A-3 rating for Romania's long- and short-term governmental debt in local and foreign currency, according to the Finance Ministry. The agency is predicting a 4 percent real GDP growth in 2018, and a 3.5 percent growth for 2019.
Moody's last rated Romania in April 2017, when it has changed the outlook on the country's Baa3 government bond rating to stable from positive due to deterioration in public finance and debt outlook.
"The announcement by Moody's shows that our country has a solid economic growth that will be maintained over the following years. This growth outlook and the moderate public debt are reasons why investors should trust the Romanian economy," said Finance minister Eugen Teodorovici.
The decision to affirm the ratings and maintain the stable outlook reflects Romania's moderate economic strength, the government's moderate fiscal strength and its country's moderate institutional strength, Moody's said in a press release.
Meanwhile, the dynamic of investments is expected to improve as private consumption continues to be the main growth factor, while the net export contribution will remain negative.
"Moody's says that the factors that could lead to an improvement of the country rating relate to fiscal and external measures, accompanied by better predictability and credibility of these measures," said the minister.
At the same time, applying structural reforms supporting the business environment and resolving the lack of infrastructure will have a positive impact on long-term growth.
However, the Finance Ministry's entirely positive interpretation of the report by Moody's leaves out some warnings made by the agency.
The first driver of Moody's decision to reaffirm the Baa3 rating is "Moderate economic strength balancing a robust medium-term growth potential with structural challenges"
"Romania's credit profile remains supported by inherent strengths, which include solid medium term growth potential and relatively strong fiscal metrics against risks arising from negative fiscal and institutional trends which, if sustained over the longer term, would erode Romania's relative strengths versus its Baa3 peers," Moody's also said.
Moody's cites the size and diversification of Romania's economy, as well as its wealth level (a GDP per-capita income of USD 24,508 in 2017 – above the Baa-median) as some of the reasons for the country's economic strength.
On the other hand, the agency writes, "These positive attributes of Romania's economic strength are balanced by limited progress in implementing structural economic and governance reforms to address weaknesses in the business environment and deficiencies in infrastructure, whose quality remains relatively low compared to European peers, as well as weak public investment management and weak governance of state-owned enterprises."
According to the analysis, Romania's above-potential growth of recent years is not sustainable. "The country's growth dynamics are decelerating as monetary policy becomes less accommodative and the impact of the fiscal stimulus subsides. Moody's expects Romania's real GDP to expand by 4.0% and 3.5% in 2018 and 2019, respectively, down from 6.9% in 2017. While investment dynamics are expected to improve somewhat, private consumption will continue to remain the key growth driver while the contribution of net export is expected to remain negative."
The second reason for Moody's decision was "low-debt burden and favorable debt affordability metrics, despite risks posed by a pro-cyclical fiscal policy."
Although the country's fiscal metrics remain strong and compare favorably to peers, "Romania's debt trajectory is exposed to the risk of growth and fiscal shocks. As the quality of the government's expenditure composition deteriorates, the accompanying increase in budget rigidity raises the risks to the fiscal position in case of a stronger than expected economic downturn. A significant exchange rate depreciation would also affect the debt dynamics given that more than half of the total debt is denominated in foreign currency. In addition, the 18.1% share of domestic debt securities held by non-residents (as of May 2018) exposes the government to some risk in case of a shift in investor confidence," Moody's warns.
Moody's third driver for reaffirming the rating was Romania's "moderate institutional strength, balancing past improvements with risks of reform reversal."
The agency writes that Romania's institutional capacity was significantly strengthened under the aegis of the EU membership, but Romanian institutions remains weaker than their EU counterparts. "Furthermore, EU institutions have expressed concerns about the risk of reform reversal posed by recent legislative initiatives that can weaken the anti-corruption framework and the rule of law. At the same time, the reversal of the past fiscal consolidation through measures approved outside the standard fiscal framework's rules and practices reduces policy credibility and predictability, weighting on our assessment of institutional strength," the report shows.
Finally, the rating decision was determined by "moderate, albeit increasing, exposure to event risks, driven predominantly by external vulnerability risk."
"Romania's current account deficit widened to 3.3% of GDP in 2017 from 2.1% of GDP in 2016, primarily reflecting the government's pro-cyclical fiscal stance, and this has increased the downside risks to external position. The current account deficit in 2017 compared unfavourably with Central and Eastern European peers, most of which had surpluses. While the current account deficit is expected to widen to 3.7% of GDP in 2018, it remains mostly covered by FDI inflows. Romania's total external debt remains moderated, at about 50% of GDP in 2017, down from 70% in 2013.
At the same time, Romania's volatile political environment, characterized by frequent governments' turnover, has hampered policy continuity, resulting in a significant shift toward less prudent macroeconomic and fiscal policy in recent years. These political dynamics have not been conducive to structural reforms implementation. Potential tensions with EU over the fiscal position and judicial reforms would further undermine policy credibility and could adversely affect investor sentiment, increasing the susceptibility to event risk," Moody's concludes.