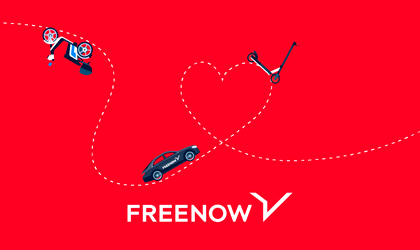 People's social lives have been transformed over the past two years, as working from home for many employees and social distancing to protect their health have become the new normal. People have had fewer opportunities to meet and make genuine connections with those around them, but the need for such experiences has intensified. Therefore, this year, 88% of respondents to a Valentine's Day survey conducted by FREE NOW, Europe's leading multi-mobility platform, say they see no reason why they would not celebrate this romantic day.
Valentine's Day, although borrowed, has become part of local customs more and more and Romanians take the opportunity to make plans for the occasion, while many also celebrate Dragobete. In their view, the most romantic cities in the country to spend this holiday are Brasov (30%), Sibiu (17%), Bucharest (15%) and Cluj-Napoca (12%), according to respondents in 10 of the most important cities in Romania who participated to the survey. In fact, Brasov is also considered a romantic destination to spend Valentine's Day in by respondents of the FREE NOW survey in all countries where the company is operating, ranking 3rd after Galway and Rome.
For almost 37% of Romanians who responded to the survey, one of the most romantic ways to get around and explore a city on Valentine's Day with their date is to share a car through ridesharing or taxi options. In contrast, for longer rides, 46% would choose the personal car and 15% consider bike rides romantic, despite the weather.
Almost 28% of Romanian survey participants say they usually celebrate Valentine's Day by going out at a restaurant. Another 20% spend it at home with their loved one, 11% enjoy outdoor walks and almost as many choose an escape outside the city they live in. Other popular ways to spend time on this occasion are going out for drinks, relaxing at the spa, seeing a movie at the cinema or going shopping, while 1 in 10 Romanians say they don't celebrate Valentine's Day at all.
When it comes to planning a romantic date, mobility is very important, therefore 62% of respondents to the FREE NOW survey say they choose to get to their Valentine's Day date destination using a ridesharing or taxi option. The main reason is concerning safety for 45%, especially if they plan to consume alcoholic beverages during the date. At the same time, 44% say that this way they get rid of the worry of being late for their date, and 36% believe that this way of traveling offers them more comfort and a solution to not ruining their outfit in a crowd or because of bad weather. On the other hand, more than 20% believe that ridesharing offers them freedom and a quick escape from a date that is not going well and 15% say it is easier to share a ride home and therefore spend some more time together.
In the 24 million kilometers traveled with FREE NOW in 2021, 34% of respondents say that they have used the time until their destination to flirt with the person they shared the car with and 20% have talked about their romantic relationship with the driver  when traveling alone.