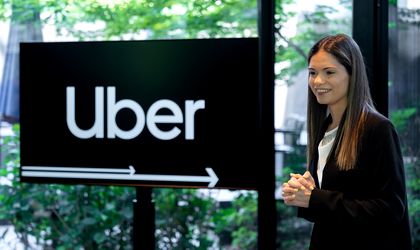 Uber, the world's leading ridesharing company, launches its premium service, Uber Black, in Romania. The launch of this product is a significant step towards providing a more luxurious and comfortable experience for riders in the country. 
Uber Black offers riders the opportunity to travel in high-end vehicles, such as Mercedes-Benz E-Class, Volkswagen ID.4 or Tesla Model 3. With the launch of Uber Black, the company aims to cater to the growing demand for premium ridezsharing services in Romania, while also offering riders a safe, reliable, and comfortable transportation option.
At the moment, the service will be available only in Bucharest. Uber Black is available in multiple cities worldwide, such as London, Paris or New York.
How is Uber Black different?
Top ranked drivers on every trip. Expect elevated services from professional drivers. People driving with Uber Black must maintain a minimum rating requirement of 4.85 stars, be insured to drive commercially, and meet state – or local – level livery regulations.
The business class of back seats. Featuring premium cars with leather seats, a trip with Uber Black lets users stretch out in comfort and show up in style. Riders can expect the same kind of rides, every time, with consistent vehicle models such as Lexus or Jaguar.
Features designed around riders' perfect ride. Passengers will benefit from a perfect ride, down to details on temperature, luggage support, and even the level of conversation with the driver. With Ride Preferences, a feature for Uber Black, riders can ask drivers to tailor the trip environment to their liking, with just a few taps in the app:
Quiet Mode: if users need to respond to emails or are in the mood for a nap, they can make trips quieter, with just one tap. If they're in the mood to chat, that's an option as wel
Help with Luggage: passengers can let drivers know an extra pair of hands is needed for their luggage. 
Temperature Control: riders can communicate their optimal temperature before entering a vehicle.
4. More flexible pickups. Riders can enjoy a little extra time to get to their car—5 minutes until they're charged a waiting fee as opposed to the 3 minutes available on other services such as UberX.
"With the launch of our newest product, we are happy to meet the evolving needs and preferences of Uber riders. We are bringing a new level of luxury and comfort to the ridesharing experience in Romania, within the price only slightly higher than Uber Comfort. We believe that the launch of Uber Black in Bucharest will provide a unique offering for riders' comfort", says Ana-Maria Borlovan, Head of Driver Operations at Uber, for the Central & Eastern Europe region.
How to ride with Uber Black 
Request
Open the app and enter your destination in the "Where to?" box. Once you confirm that your pickup and destination addresses are correct, choose Black at the bottom of your screen. Then tap Confirm Black.
Once you've been matched, you'll see your driver's picture and vehicle details and can track their arrival on the map.
Ride
Check that the vehicle details match what you see in the app before getting in the car.
Your driver has your destination and directions for the fastest way to get there, but you can always request a specific route.
Hop Out
You'll be automatically charged through your chosen payment method, so you can exit your ride as soon as you arrive.
Remember to rate your driver to help improve the safety of Uber and make it enjoyable for everyone.