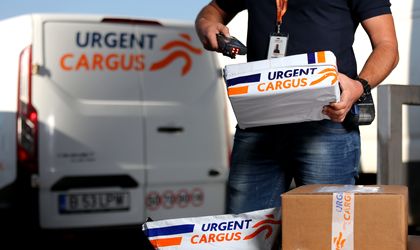 Urgent Cargus, one of Romania's leading courier companies, is expecting an overall growth in volumes of 15 percent for the month of April compared to February, driven by the Easter holyday and the COVID-19 crisis context. The peak of the month was recorded in the period before and immediately after the Easter holidays, which exceeded by 47 percent the average for the month of February. This growth rate also confirms the undeniable migrating of consumers to online shopping, a trend that has been strongly stimulated by the COVID-19 crisis.
In this context, e-commerce finds itself on an accelerated upward trend, with March – April being characterized by outstanding results among deliveries in this sector. In the first three weeks of April, Urgent Cargus recorded an increase of 27 percent in e-commerce volumes, compared to the same period of February. On April 21, almost 80 percent of the deliveries handled by Urgent Cargus' 5.000 courier professionals, employees and subcontractors, belonged to the e-commerce segment.
"The recent context has produced significant changes in the size and structure of the volumes handled by Urgent Cargus. The closing of many offline outlets has driven a boom in online shopping. However, the uncertainty generated by the COVID-19 context has determined consumers to focus on IT&C, Home and Deco and FMCG sectors while reducing their interest in other sectors," stated Jaroslaw Sliwa, Urgent Cargus CEO.
The most affected industries by the crisis generated by COVID-19 include fashion, with a contraction rate of 24 percent, teleshopping (-29 percent) and automotive, which recorded a decrease of 16 percent. On the other side, the industries that enjoy an exponential growth are IT&C, with a 22 percent growth, home and deco (+ 17 percent), as well as the FMCG consumer goods industry (+15 percent).
The extraordinary context has determined Urgent Cargus to take specific measures in order to accommodate increased volumes and safety measures.
"We are strictly following the standards put in place by authorities, while looking to take supplementary measures in order to protect our staff and customers, including isolating courier teams from one another to minimize the risk of mass infection. We understand these measures might lead to a certain discomfort for clients, but we believe safety should always be our top priority. Due to the increased role of e-commerce in the lives of our clients, we have also made deliveries on Friday, April 17, and Saturday, April 18, and will also be working on May 1st," concluded Sliwa.
Moreover, in March, Urgent Cargus launched the low-contact delivery service, which allows parcels to be delivered to clients without exchanging documents or physical signature. Thus, the solution removes from the delivery process the parcel's receipt confirmation stage that used to require the recipient's signature, excluding the direct contact between the courier and the customer.