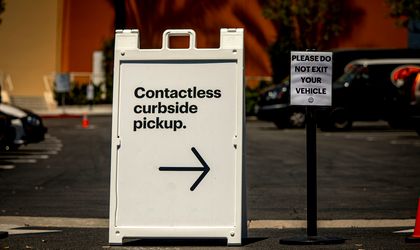 One year since the pandemic began, a new sales channel and facility is available to restaurants in Romania, thanks to a recent update from the ialoc app: curbside pickup – a virtual drive thru for restaurants. The new feature is another convenient and safe way to get the food you love and support local restaurants.
The COVID-19 pandemic has certainly been the restaurant industry's biggest challenge to date. Never before have so many restaurants been forced to find alternative solutions to serve their customers, and unfortunately, some will never be able to reopen.
With indoor dining still not allowed and few options for outdoor seating available due to a high number of daily COVID-19 cases and not very friendly weather, restaurants have had to find alternative sales channels. Delivery is a great option and it's been widely adopted, but the fees practiced by local delivery apps are not very helpful for restaurants whose finances have been suffering for a long time.  
Eat well, stay safe, go digital
The ialoc app's new curbside pickup feature for the local market is designed for those who are already out and about. Here's how it works: you order ahead for curbside pickup, park outside the restaurant in the spot designated through the app, and a restaurant team member brings the food to your car. Breakfast, lunch, dinner or quick snacks get delivered straight to your car just like in any other drive thru experience, but ordering happens in advance. 
"The curbside pickup system enables you to serve customers without them actually entering your restaurant. This system is a happy mix between a traditional to-go order and a delivery. By using this system, staff members bring customers' orders outside to them rather than inviting them into the restaurant, which allows staff to keep a safe distance and lets everyone stay out in the open air," says Cosmin Magureanu, the CEO of ialoc. 
The system works very easily and intuitively: the customer places their order online, gets assigned a time slot for pickup, and pays online. The restaurant receives their order, and when the designated time comes, the customer walks or drives up to the place. The app displays the client's location in real time.
Moreover, international press outlets have written about drive-thru solutions as heroes of the pandemic, as they were among the safest ways to get food into the hands of consumers.
"This system is hugely successful in the US and it can become very popular in Romania as well, as many people here are still using their personal cars to commute. Our estimations show that by the end of 2021, we can increase sales by EUR 860,000 for 250 listed restaurants, while their profit would increase by EUR 236,000, as long as delivery platforms maintain their current 30 percent fees," Magureanu adds. 
After an entire year of living in a pandemic, the entire world has adjusted to the "new normal." As spring brings in warmer weather, local restaurants may be able to breathe a sigh of relief, if the authorities allow it. Though the prospect of returning to full-capacity indoor dining within the next few months is unrealistic, digital alternatives can help, while eateries can look forward to filling more outdoor seats in the summer season.