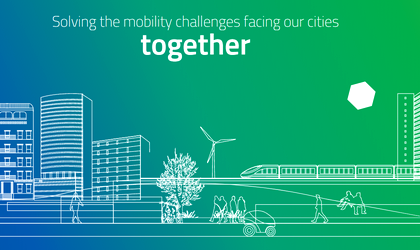 Starting October 2021, ICEBERG launches a Hub in Romania supported by EIT Urban Mobility, together with its partners, Spherik Accelerator and The Romanian Federation of Metropolitan Areas and Urban Agglomerations.
Hub in Romania supported by EIT Urban Mobility
By representing EIT Urban Mobility, which is an initiative of the European Institute of Innovation and Technology (EIT), a body of the European Union in Romania, our aim is to build an innovative ecosystem that brings together key stakeholders within the knowledge triangle of education, research and businesses, and cities, with the ambition of creating impact in the field of urban mobility. With our national hub, we seek to raise awareness on urban mobility innovations and city challenges among relevant stakeholders, while connecting and involving them in the hub activities. The purpose of this hub is to ultimately provide them with knowledge, networking and access to funding, new projects, initiatives and other opportunities. Using a blend between the Living Labs and Open Innovation approach and mixed with Education activities on entrepreneurship and Support for start-ups, the EIT Urban Mobility Hub Romania gathers actors from the knowledge triangle, aiming at linking innovation at start-up level with real challenges faced by public administrations and other relevant mobility stakeholders from the region.
A growing number of start-ups and innovators from CEE that showcase new products, services or business models aimed to solve mobility related challenges in their communities were identified. Unfortunately, local start-ups rarely end up working with public administrations from the region, therefore the new EIT Urban Mobility Romania Hub is looking to bridge gaps in the innovation ecosystem, by:
Interconnecting local innovators with key stakeholders.
Creating a common space for local players in order to identify specific urban mobility challenges of the cities, defining and structuring actual mobility-related challenges.
Facilitating know-how transfer in response of the needs of the companies (startups, scale-ups, SMEs) and support them to materialize their innovative ideas, offering access to networking communities, funding opportunities and education activities such as trainings on entrepreneurship.
Providing them the context to showcase their innovation under real life-conditions.
The overall impact is on one hand related to providing cross-border access to ecosystem landmarks, living labs, research and knowledge centers and others, and on the other for connecting municipalities and large corporates and their respective mobility challenges to innovators and startups throughout Europe.
EIT Urban Mobility Romania Hub will conduct its activities through offices in Bucharest, Brasov and Cluj.