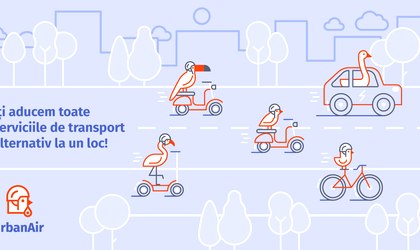 Users of the Up MultiBeneficii platform will have access to increased mobility in their daily trips around Bucharest, thanks to a new partnership between Up Romania and UrbanAir.
The beneficiaries will be able to rent alternative means of transport – scooters, electric cars, and bicycles – through UrbanAir, a platform that integrates all shared mobility solutions.
UrbanAir is the world's first shared mobility service aggregator app that allows the use of all options from one place. Users can find scooters, bikes, or carsharing options, unlock them, take a ride and pay – all from a single app.
Up MultiBeneficii is an online platform, developed by Up Romania, through which companies offer employees the possibility to decide how they use their funds for the monthly or annual fringe benefits. Employees who use the platform have access to the best offers for this type of benefits and to a module of special offers for products and services they can purchase with their own funds.
The service offered through UrbanAir for Up MultiBeneficii users consists of a shared mobility voucher worth 20 lei. Specifically, employees can use part of their fringe benefits budget to purchase one or more vouchers. These can be used for certain partners, where journeys are paid for with the card linked to UrbanAir. Any number of vouchers can be purchased and added to the card account and will be activated in successive separate trips. This service is only available in Bucharest and the app can be used on iOS, Android, and Huawei.
"Through this partnership, we want to facilitate and encourage the use of alternative means of transport in Bucharest, all the more so in the context of employees returning to the office. Up MultiBeneficii users can thus avoid traffic to some extent and have the satisfaction of using greener transport means by opting for scooters, bikes or electric cars. All very easy, fast and from one place. In addition, users get rid of the hassle of finding a parking space by leaving their car at home," says Dan Stoica, Commercial Director Up Romania.
—
"In the context of hybrid working, we need new mobility solutions that are more flexible and handier for any change of plans. Traffic is a bigger problem than ever, so we are proposing a mix of urban mobility options that together offer a faster, cheaper and less hassle solution than travelling by private car. All this can now be accessed extremely easily from one place. I'm glad that, through this partnership, users of the Up MultiBeneficii platform can access these transport options to get to work or wherever they need to go much more easily," said Mihai Rotaru, founder and CEO of Neobility.