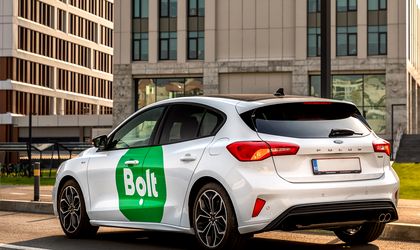 Bolt, the main European mobility platform, launches the ride-hailing services in Pitesti and Craiova, thus managing to be the first company of ride-hailing in Romania that reaches ten of the largest cities in the country – Bucharest, Cluj-Napoca, Timisoara, Iasi, Constanta, Brasov, Ploiesti, Galati, Pitesti and Craiova – with four cities launched within the last two weeks.
The ride-hailing services are the first with which the company marks its presence in the two cities in the southern part of the country, thus continuing the strategy that Bolt has relied upon since the beginning of the year, that of expanding to as many cities in Romania as possible.
"The expansion process of our company is accelerated, the development going on several levels, from the opening of new cities to the launch and expansion of new services. In this complex and very fast process, we sought in each city to strictly comply with all provisions of the law on the necessary permits for our partner drivers and operating conditions and to meet the requirements of the pandemic", said Cristian Sălceanu, Country Manager Bolt Romania. "Bolt is a leader in mobility in Europe and in many countries in our region, so it was natural for our ambitions to be great for Romania as well. Today's launches are a benchmark for Bolt Romania and we hope that they will enjoy of the same success as we met in all the other cities. We will continue to expand nationwide with the launch in other cities in the next period."
To access Bolt on-demand transportation services, users must install the Bolt app, which they can download from Google Play or the App Store.
During the launch period, the price of Bolt trips from Pitesti and Craiova starts from 7 lei, depending on the chosen category, and riders benefit from discounts of up to 50%, or up to 7 lei. Both riders and drivers have a legal obligation to always wear a protective mask. Bolt also recommends that its partner drivers disinfect cars after each journey, and that riders comply with the rules of social distance and hygiene in accordance with applicable laws and the recommendations of the World Health Organization.