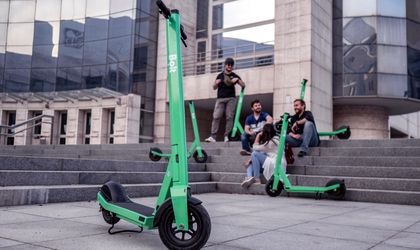 Bolt, the leading mobility platform, announced a commitment today to become climate positive (carbon negative) in its e-scooter operations by the end of 2020; meaning Bolt will remove more carbon from the atmosphere than production and maintenance of its e-scooters adds to it.
Bolt currently operates PHVs in 35 territories and e-scooters in 14 countries worldwide with an ambition to reach 45 cities by the end of the year. Bolt will apply its successful PHV carbon offsetting programme to micro-mobility by the end of 2020; adding specific catalyst projects and partners globally that help it remove additional CO2 from the atmosphere. Potential projects include supporting reforestation as well as solar and wind power production.
In addition, Bolt's climate positive ambition will see the platform commit to: a sustainable development chain, ongoing review of its supply chain to ensure optimum efficiency by switching to renewable energy sources where possible and relevant data sharing with the cities in which it operates to help the shift toward greener and more holistic urban transportation.
Bolt offers a unique multi-modality proposition and is confident in e-scooters providing a safe and reliable last-mile transport solution that can replace car rides and connect commuters with transport networks; providing environmental benefits and economic growth opportunities to cities.
In cities where both PHVs and e-scooters are in operation, Bolt incentivises app users to switch to micro-mobility with an in-app recommendation function and e-scooter passes.
Recent Bolt data shows an up to 9 per cent switch from ride-hailing to micro-mobility journeys among active users. Additionally, it reveals 70 per cent of micro-mobility trips are for commuting purposes, and almost 40 per cent of the trips end near public transportation locations, indicating that e-scooters are used as a last or first mile option and thus reduce congestion.
Bolt's unique custom-made scooters are produced in-house, designed to be lightweight and highly recyclable with a lifespan of up to five years; manufactured in accordance with ISO and other relevant standards, they are 100 per cent recyclable. In each operating territory, Bolt uses local partners and mechanics for recycling, repair and maintenance and pledges to ensure a sustainable development chain; reducing waste and having the lowest total cost of producing and maintaining e-scooters in the industry.
By committing to climate positive operations by the end of 2020, Bolt continues its pledge to support cities in the safe and environmentally positive incorporation of micro-mobility into transport solutions.
"At Bolt, we take climate change seriously, and intend to take responsibility for our environmental impact. That's why we are committed to climate positive e-scooter operations by the end of the year. Micro-mobility offers a unique and sustainable mobility solution for cities and individuals looking to offset their carbon footprint and make transport choices that are greener.

Our unique multi-modality proposition and in-house produced e-scooters are just two of the ways we aim to deliver long-term sustainability of our e-scooters in all of our markets, and our pledge to leave minimal environmental footprint with a climate positive ambition for the end of 2020." Says Martin Villig, Co-Founder and VP of Sustainability at Bolt.