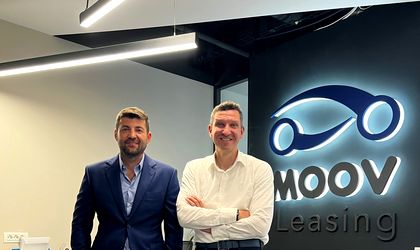 Bogdan Speteanu, former CEO of BCR Leasing, and his business partner Mircea Dihel, former CEO of Țiriac Leasing, are developing a mobility-as-a-service (MaaS) platform, that will offer operating leasing services to individuals, self-employed and small companies on a monthly subscription basis.
The platform will be launched in the second half of the year. To date, the partners have invested €3 million in the company, with several rounds of capital increases to take place in the coming period.
MOOV Leasing is a start-up company that was created as a result of changes in the way mobility services are accessed worldwide and the growing interest in operational leasing, rental, car-sharing, or ride-sharing services. In a world where technology is advancing at an ever-faster pace, and where care for the environment is becoming a major priority, MOOV Leasing's mobility solutions are designed to meet the needs of those who want to benefit from using, exchanging, returning, or even buying a car in a simple, fast, and flexible way.
"Through MOOV Leasing we aim to make mobility a flexible, fast, and easy-to-use service and offer customers tailored mobility solutions. We are currently focusing on optimizing the digital platform and expanding the partner network, which is open to interested companies," said Bogdan Speteanu, co-founder of the newly established company.
He is taking the step into entrepreneurship after a 20-year career at BCR Group, where he held several senior positions in audit, strategy (coordinating BCR's integration program with the bank's acquisition by Erste Group), and corporate commercial network. Bogdan Speteanu managed BCR Group's leasing company for 10 years. He was also President of the Romanian Association of Financial Companies for two years.
"I am grateful to all my colleagues at BCR, where I have learned the most valuable lessons both professionally and, above all, personally. BCR is a real business school for anyone who wants to make a solid transition from corporate to entrepreneurial life. BCR is and will remain a special place for me, to which I will always be happy to return", added Bogdan Speteanu.