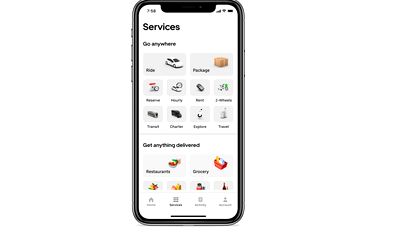 Uber is announcing the results of a comprehensive survey aimed at understanding the needs and preferences of today's ridesharing users. Moreover, Uber's new app is designed and personalized for each customer. 
Conducted by Mercury Research for Uber Romania, the research surveyed users and the general public from Bucharest, Timișoara, Iași, Brașov and Constanța, providing valuable insights on what people are looking for when using on-demand transportation.
Given the fact that in 2022 alone, the presence of the company grew by 30% by expanding to 7 more cities, Uber is now available for users in 22 Romanian cities, with new growth plans in the near future.
In February, Uber also introduced a redesigned Uber app to help customers navigate their everyday life more effortlessly. Tens of millions of Uber customers in 1,200 cities throughout the world now have access to the redesigned Uber app and new features.
Uber brand awareness 
The study confirms that Uber is by far the most recognizable ridesharing app: 92% of Romanians are more likely to point to Uber as their favorite option, associating it with positive attributes such as pleasant and good quality.
When it comes to riders, 60% of them choose Uber over other apps. Dual users are also more inclined to using Uber over other ridesharing options.
One of the most important findings show that Romanians from the five big cities in the survey prefer Uber over other ridesharing services available and taxis for drivers' good attitude, vehicle comfort, transparency and safety, while also taking peer recommendations into account.
Service performance 
In addition, the study also reveals that there is high awareness about the licensing process that Uber drivers go through, with almost 45% of all people knowing the steps that drivers take in order to drive on the app.
As of 2020, Uber is licensed in Romania as an alternative passenger transportation intermediary and only works with licensed partners. Drivers go through a tedious process, and once on the app, they benefit from a series of advantages available to them in the Uber Pro programme, from insurance or gas discounts to perks on charging their electrical vehicles.
Benefits of the app 
The survey also reveals that Romanians appreciate the Uber app, with more than 4 in 5 riders declaring they enjoy using it.
42% of all people declare that the most appreciated feature of the Uber app is seeing the trip cost beforehand. Moreover, riders benefit from a series of features available at the push of a button, such as sharing their trip details with a loved one or scheduling their trip in advance with the help of Uber Reserve.
Out of the cities where the Uber benefits record higher likeability, Timișoara and Iași come on top.
App redesign
With the new app redesign, Uber provides an easier way to find the right ride for any occasion. Users with iOS operating devices can easily track the live progress of their ride and receive critical updates directly on their lock-screens, without opening the app. In addition, with the new "Activity Hub", all customers can now keep track of all past and upcoming trips and orders in one place.
The redesigned app will provide smart destination recommendations based on users' past trips and "Saved places". Users are also able to see the new and improved "Services" tab, which is a one stop shop for all of the available rides options. More about the new app redesign here – https://www.uber.com/newsroom/were-redesigning-the-uber-app-just-for-you/.