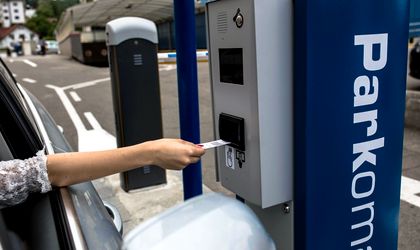 With increasingly frequent discussions about how the smart cities of the future will look like, automatically managed parking is constantly presented as an ideal solution to efficiently and quickly solve several problems, such as: decongesting traffic, reducing pollution by limiting carbon emissions and increasing the quality of life in big cities.
A recent study by INRIX ("The Impact of Parking Pain in the US, UK and Germany") concludes that there are consistently significant economic losses due to the lack of parking spaces – €45 billion in Germany and $72 billion in the US. If properly signposted and effectively managed, automatically managed parking systems are a solution to this problem, too. Even more, they bring important benefits to your business. Here are just 3 of them.
Automatic parking management system = perfect remote control, traffic fluidity, easy organization and management
Automated parking systems offer the benefit of perfect space control because they involve automated access. This monitors entries and exits and provides a clear record of the time a car spends on the premises. For example, large retailers or HoReCa contractors are frequently faced with the situation where customer parking spaces are illegally occupied by people who would not have this right. Exceeding the parking time, taking up more than one parking space with unwise parking manoeuvres and people asking for money to help drivers  park are situations that can be avoided by implementing an automated parking management system. It allows even remote control, monitors and restricts access when needed (through license plate recognition – LPR: License Plate Recognition System) and issues reports, analyses, and statistics.
Automated parking management system helps optimize operating costs
Automating a car parking lot means first and foremost reducing operating costs. From entry/exit terminals to payment, all operations are carried out by advanced technolofy automated systems, thus increasing convenience and satisfaction for both car parking lot managers and drivers.
The automated parking management system is a reliable and constant source of income and even a very profitable business in itself!
An automatic parking system such as Parkomatic, for example, can easily become a constant and secure source of income, because it also offers the possibility of subscribing to different rates for employees and residents, depending on the parking period. It also makes it possible to book a parking space and pay for it in advance, which eases traffic congestion and insufficient parking spaces.
For factories and large retail chains, hotels, restaurants and guesthouses, hospitals and health care or beauty centers, implementing an automated parking management system means effective control, cost optimization, easy management, and additional revenue to the budget.
On the other hand, landowners in central areas of cities or tourist resorts can make spectacular profits in just a few months by investing in an automated parking system. With the number of cars on the rise, automated parking management systems are one of the most profitable businesses of the moment if they are carried out with the help of specialists.
In Romania, the Parkomatic automated parking management system from KADRA portfolio is the solution with the most integrations in the country, the leader in this segment. The Romanian company is the first to provide parking management systems equipped with contactless payment terminals, both by bank card and smartphone, and has developed the GoPark app, which complements the benefits of Parkomatic. It provides drivers with information on the nearest and cheapest parking space, which they can also pay for online, while for operators it is a great payment and advertising tool.
Between June 9 – June 11, KADRA will present its high-performance automated parking management solutions at the Carpathian Mountain Fair. The Romanian company offers innovative and reliable automated parking management systems, on-street parking meters, electric vehicle charging stations, license plate recognition systems tailored to any need, as well as permanent after-sales services and financing.