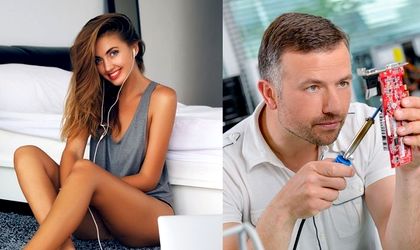 The videochat industry has flourished over the last three years. It started about 10 years ago, along with the booming speed of the internet, but it really took off 3 to 4 years ago with more and more studios opening for clients abroad. Today, there are over 100,000 people working in the industry, a number comparable with the IT industry where we have around 110,000 specialists.
The industry's turnover is officially estimated at EUR 100 million each year, but unofficially it goes up to EUR 300 million. The difference might come from the fact that not all the women work legally; some of them learn how to do it in a professional studio and then go solo.
Even for the fully legal agencies, it is difficult to register all their workers due to the fact that the "videochat model" job does not technically exist so they have to use other descriptions for the jobs the women do, like IT assistant or hostess.
Gloria Agency invested EUR 350,000 in a new office in 2017, which is over 800 sqm in size. The investment might be big for a single office, but they were confident it would be recovered in just one year.
"The site has 18 working rooms, containing equipment worth over EUR 40,000, because we understand the need for a substantial investment and total business legality. We want the models we collaborate with to be able to buy a house, take out a loan, get health insurance, and have their taxes paid to the state," says Liviu Berbece, chief financial officer of Gloria Agency.
The job is popular among young women, usually younger than 25, who want to earn more than the average wage. They get training and specialized help whenever they need it, but they also must be able to speak English as the customers are from outside the country.
"Over the years, I've met hundreds of girls and they all wanted the same things: confidentiality and gaining financial independence in a legal framework, where incomes are much higher than in any other job in Romania. In addition, it was important to benefit from the taxes paid to the state. All these years I have witnessed the birth of many studios. Some appeared as mushrooms after the rain and they also disappeared because they did not offer quality and made empty promises," explains Oana Necula, manager of Gloria Agency.
In order to make EUR 5,000 per month, the women must work 8 hours per day, 5 days a week. They also must be able to understand the psychology behind the reasons clients might want to use these types of services, regardless of whether the services are adult or non-adult. Clients vary from doctors in Germany who want to talk to someone at night, at the end of their working day, or businessmen who are looking for a chat in the morning, at breakfast.
State taxes
"For 2018 we estimate a turnover of RON 15 million and we will pay RON 250,000 every month in state taxes," says Berbece.
There are over 100,000 models and about 5,000 studios in Romania.
"The industry is strong in Romania and it could have the potential to balance the country's external balance of payments together with the IT industry if it were properly encouraged by the state," says Robert Vanderty, founder of Studio 20.
Last year, Studio 20 had a turnover of USD 15 million from a franchise network of 15 studios around the country, but also in Cali (Columbia), Budapest (Hungary) and Los Angeles (USA). The biggest studio is in Unirii Square in Bucharest, with 1,500 square meters, which was opened after an investment of RON 800,000.
The global videochat market is estimated by Studio 20 at USD 10 billion per year. It might very well be the business of the future considering that many young people are single and may just need to talk to someone. So, until a virtual person will be able to speak like a real one, these women will continue to be highly sought-after.
It is also a job for millennials, since the girls are all young. The same can be said about the the IT industry, where most employees are young as they started to work right after graduation. It should not be a surprise that Romania is among the leading countries in these fields since we are talking about people who were born in the modern and digital world.