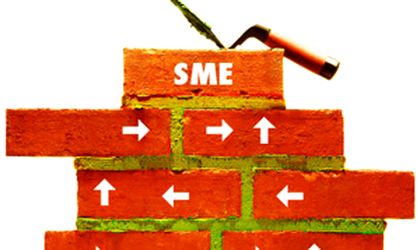 Micro-enterprises make up only 10 percent of the national business volume (GDP), but they provide almost a quarter (23 percent) of all Romanian jobs, according to a study released by Instant Factoring. According to the research, microenterprises are a growing market segment, with a turnover growth of 5.2 percent in 2017 compared to 2016 and 23.8 percent compared to 2013, to RON 139.1 billion.
The survey predicts the continuing growth trend for this year at around 4 percent, rising to RON 145 billion. At the national level, micro-enterprises have a 10 percent share in the volume of business generated by all companies in the economy.
"The easiest and most accessible area of ​​activity remains trade, pointing at least to this level if the local economy keeps consumption as the main pillar: in 2017, retail trade generated RON 25.9 billion in volume with a number of 97,900 active companies, followed by wholesale trade, RON 15.4 billion and 39,400 active companies, and manufacturing RON 13.7 billion and 37,300 active companies, only half compared to the first place. Other sectors accessed by entrepreneurs are transport, with a consolidated turnover of RON 13.2 billion and 39,400 active companies, and construction with RON 12.9 billion turnover and 50,000 active companies. 68.9 percent of the total turnover of micro-enterprises in Romania, equivalent to RON 81 billion, are coming from the first five fields of activity," according to Instant Factoring.
The country's business dynamics is at highest in the Capital and the counties of Cluj, Timis, Constanta and Ilfov. Bucharest has the most dynamic business environment accounting for almost a quarter of the total, with 106,700 active companies in 2017, which generated 19.5 percent of the cumulated volume of the analyzed segment, a total turnover of RON 26 billion.
Counties Cluj (5.4 percent), Timis (4.4 percent), Constanta (4 percent) and Ilfov (3.9 percent) are at a considerable distance in terms of the business volume and the number of active companies. All of them account for more than a third (37.2 percent) of the total national turnover, i.e. 39 percent, or 200,000 active companies in Romania in 2017.
Data from the study reveals that workforce declined by 5 percent in 2017 compared to 2016 and by almost 15 percent from 2013 to 1.11 million employees. The share is about 23 percent of national jobs at the end of 2017.
"For 2018, we estimate the continued decline in the workforce to just over one million employees based on accelerated migration and automation processes," the study shows.
At the top of the ranking of the most dynamic cities when it comes to labor force is Bucharest – with over 191,000 employees (17.2 percent of the total), followed by Cluj (5.1 percent), Arges (4.9 percent), Constanta (4.4 percent) and Timis (4.1 percent). Active micro-enterprises registered in these regions had almost 440,000 employees, or 35.8 percent of the total reported at national level.
The survey analyzed micro-businesses with an annual turnover of up to EUR 500,000 over the past five years (2013-2017). According to official data, in Romania, in the year 2017, 511,800 active micro-companies were registered in Romania with an aggregate turnover of RON 139.1 billion (an average of RON 271,785 / company) and employed 1.1 million active persons (2.4 employees / company). The consolidated profit amounted to RON 28 billion, equivalent to 20 percent of the turnover achieved and an average of RON 54,708 / company.
Instant Factoring is the first online factoring company in Romania dedicated to small companies and micro-enterprises and member of Fintech Innovate Finance, a London-based European Association of Companies. Instant Factoring is an IFN registered with the National Bank of Romania (BNR), and with the launch of the online factoring platform www.instantfactoring.com, the company assumes the mission of supporting the development of small companies through fast and easy financing solutions with the help of technology.