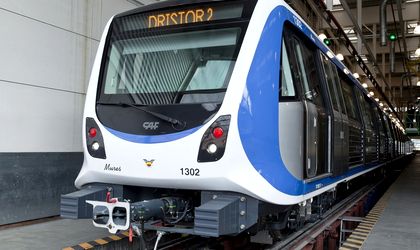 The operator of the Bucharest subway network, Metrorex, has a debt of EUR 47 million to Astaldi, the construction company building the 5th subway line between Drumul Taberei and Pantelimon, according to Transport Minister Lucian Sova, who resigned yesterday from his position but whose resignation has not been signed by president Klaus Iohannis.
According to his statements for B1 TV, Lucian Sova said that Astaldi can block the activity of the subway at any time since it has won all the trials regarding the debt and it has a court order for the foreclosure of the company.
"If they want to close the subway, they can, since they have a court decision. The government knows about the situation. I have been making efforts in the last three months to to pay this amount and have also tried to identify the guilty parties," said Lucian Sova.
The Control Body of the Minister of Transport carried out checks at Metrorex aimed at observing the legal and contractual provisions of the design and execution contract for subway line 5 and its stations. Checks were conducted between 22-31.08.2018 and the audit revealed deficiencies in the implementation of the project, which led to delays in the performance of the contract but also to the additional costs for Metrorex.
"As a result of the inspection, there are indications regarding the existence of irregularities and/or possible frauds in the implementation of the project as they are defined in the Emergency Ordinance no. 66/2011 on the prevention, detection and sanctioning of irregularities in obtaining and using European and/or national public funds related thereto," shows the press release of the Transportation Ministry.
The report shows that the value of the contract was underestimated when the procurement procedure was launched, and substantive increases in its value, which are indications of fraud, were underway.
"As a result of the analysis of the way the public auction and the procedure for setting the contractual terms and the implementation of the contract were prepared and carried out, it was found that additional costs were incurred by the contracting authority in favor of the contractor amounting to more than RON 188 million," show the press release.
The inspection body has notified the Anti-Fraud Department-DLAF for research and action.