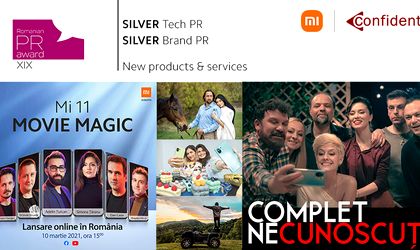 Xiaomi's campaign, "Mi 11 – Movie Magic", created by Xiaomi Romania and Confident Communications, was recognised with two Silver trophies in the categories Brand PR – New products and services and Tech PR & Communication of innovation, at the Romanian PR Awards 2021 Gala. The 19th edition took place online on November 25, with the composition of the jury international, bringing together representatives from 10 countries.
"These are two extremely important and prestigious awards for us, and confirm that we have done an excellent job this year. In 2020, the Confident team also received the Small Consultancy of the Year award. We would like to thank the Xiaomi Romania team for their support and for all their efforts in creating this campaign. We worked extremely hard on delivering an amazing execution, and can hold our heads up high that the outcome was really magical. These trophies at the national PR Awards honour us and recognise that we are on the right track ", says Mara Gojgar, Founder of Confident Communications.
—
"We are proud that we have managed to build here, in Romania, a high-performing team, which always manages to surprise. We are united and ambitious and we aim to continue to do great things. We also thank the official Xiaomi partners in Romania. We have a very close collaboration both with mobile operators and with offline and online retailers. They have shown a lot of professionalism and these awards are also theirs ", says Gina Gavriliu, Marketing Manager, Xiaomi Romania.
Xiaomi's campaign "Mi 11 – Movie Magic" lasted four months, during which time the Mi 11 Series (consisting of Mi 11, Mi 11 Ultra, Mi 11 Lite 5G and Mi 11 Lite) all launched in Romania. The local Xiaomi team and the Confident Communications team joined forces and held a series of launch events and creative executions bringing together technology and lifestyle publications, key opinion leaders (both from the tech area and from the world of film and photography), actors, travel bloggers and food vloggers.
The "Movie Magic" concept incorporated all the key messages of the Xiaomi campaign. The Mi 11 series of smartphones offers users cinematic specifications and experiences. Invitations to online events took the form of Oscar snack boxes, and the incredible capabilities of the new phones were explained and tested by professional directors and photographers. Mi 11 was one of the main features of the film "Perfect Strangers", directed by Octavian Strunilă. The first trailer for the film was shot entirely on the Xiaomi Mi 11 smartphone.
The creative executions did not stop there. Mi 11 Ultra, the high-end model of the series, was used to create a photo-report in National Geographic, with bison from Vânători Neamț Natural Park. Bogdan Daragiu, video director, filmed three memorable videos that were seen all around the world through Xiaomi Studios. Mi 11 Lite 5G and Mi 11 Lite showcased their refinement in a series of colourful recipes, created by Chef Cristian Boca, and three professional photographers were involved in a competition on Instagram.
"Xiaomi's Mi 11 – Movie Magic campaign has reached over 3 million people. Last but not least, we should mention the dozens of positive reviews from technology journalists, whom we thank for their interest in Xiaomi products. We managed to give a voice in Romania to Xiaomi's mission, that of making innovation accessible to anyone ", adds Mara Gojgar.
Xiaomi's "Mi 11 – Movie Magic" campaign would have been much harder to implement without the support of Venus Five, Confident Communications' in-house photo & video division. Founded in 2015, together with the photographer Dragoș Constantin, as an independent line of business, the studio completes the communication services offered by Confident PR. Venus Five is currently one of the largest independent photo studios in the centre of Bucharest, with state-of-the-art equipment for large photo-video projects.
THE TEAM
From Xiaomi Romania:
Gina Gavriliu – Marketing Manager
Francisc Kurko – PR Manager
Adelin Țurcan – Retail Manager
Adrian Ștefănescu – Social Media Manager
Gabriel Fârtat – Go-to-Market Manager – Non-Smartphone (Ecosystem)
From Confident Communications (Confident PR & Venus Five):
Mara Gojgar – Founder
Ana Livia Păun – PR Director
Silviu Vișan – PR Manager, Xiaomi Campaign Coordinator, "Mi 11 – Movie Magic"
Anca Denisă Călugăru – PR Executive
Fulvia Meiroșu – Corpoarte Communications Manager
Dragoș Constantin – Photo & Video Production