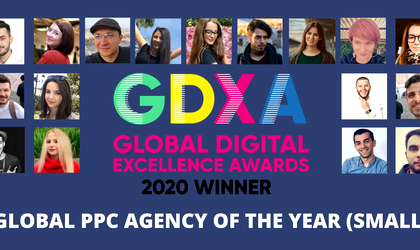 June came with really great news for WebDigital and after being nominated in the final of Global Digital Excellence Awards with 3 projects, our team won the first place at Global Small PPC Agency of the Year category.
Between the winning agencies at the competition categories we can find Digitaloft, PMG, Pole Star Digital, Peak Ace, Stein IAS, Kenshoo, OnCrawl, AccuRanker.
The winner list can be seen here: https://globaldigitalexcellenceawards.com/2020-winners/
Global Digital Excellence Awards is a virtual awards event created to celebrate and reward exceptional digital campaigns, businesses and talent despite the unprecedented and challenging times. Now, more than ever we need a reason to celebrate and reward our colleagues as they 'don't panic, keep calm and carry on'. The Global Digital Excellence Awards will celebrate campaigns, teams, agencies, companies and individuals who have gone above and beyond across 64 categories.
WebDigital submitted the agency project at the Global Small PPC Agency of the Year where we underlined elements like: work methodologies, internal processes, optimization tools, project results and vision switch from the beginning of 2020 from Just-Pay-Per-Click la Elevated Performance.
We will underline further in the article, the key elements from the agency case study.
A NEW AGENCY MINDSET STARTING WITH 2020
2020 came with an upgrade in the agency vision, migrating from the Pay Per Click Marketing concept to the new Performance Marketing concept moving the effort weight to the business objective maximization for our clients, especially profitability and sales & conversion maximization. The new mindset was also backed-up by the rebranding done at the beginning of 2020.
INTERNAL PERFORMANCE MONITORING AND OPTIMIZATION SYSTEMS
To make sure that execution follows the new agency mindset, our internal systems played an important role both in generating results for our clients and in refining the work methodologies and approach.
Budget Management (by Reefkig) – An efficient budget monitoring tool for our agency projects that offers data in realtime and helps us see budget deviation in order to quickly intervene to correct the issues.
Task Management (by Reefkig) – A project management app that suits perfectly with our work methodology ensuring an advanced and correct task priority.
(a) Task Swymline
(b) M&M (mind & muscle) Performance analysis
(c) Project Performance Analysis
(d) Task Performance analysis
Client Management (by Reefkig) – An app that contains all necessary data about clients, contacts, projects, documents, invoices and financial activity of the agency.
Reporting – a daily, weekly and monthly reporting tool (both internal and external) that helps us see and optimize the main KPIs in real time with the core purpose of improving them. This system keeps both us and our clients in touch with what happens in the accounts that we are managing and direct us where the account needs optimization and expansion.
Quality Assurance Checklist – an internal document that helps us make sure that all the accounts benefit minimum implementation in order to ensure reasonable performance, but more than that it helps our team to bring the accounts in time to maximum implementation to ensure maximum and impressive results proved on the accounts qualified in international competitions.
Work methodologies and checklists – an intenal performance-wiki that contains work methodologies, checklists, best practices, multiple known issues, solutions to different issues, optimization tools that helps the team act similar on all accounts. The performance wiki (clickplanners) is permanently updated, corrected and improved to ensure that there is a continuous evolution of implementation, optimization and development processes.
WebDigital Internship Programme – a well known programme completed by more than 25 specialists in performance marketing in the past 5 years, most of them running performance marketing departments in 360 agencies or directly at the client. The internship programme is paid and extends for a period of 6 months of intense training, followed by a 18 month career plan programme in which specialists improve their implementation and optimization skills working on the agency projects.
WebDigital project results – all the tools and work methodologies presented untill now have the main purpose of generating value for our clients and this translates in maximizing the objectives that we agree with our clients.
WebDigital Growth Dynamics – from the beginning of 2019 we found ourselves in a slow growth stage, but in the 4'th quarter we accelerated the aquisition processes and results came quickly. In December 2019 we managed to increase our turnover by 76% compared to September, the last month in Q3. WebDigital was also affected by the pandemic of Covid-19 and we felt a big decrease in turnover in April and May 2020. With new aquisitions and clients reactivating their activity and campaigns we see a big recovery in June and July and we expect to continue accelerating the growth in the next 6 months. We are looking to double-down the turnover in 2020 compared to 2019;.
Finalists in international competitions – Starting with 2019 we started to submit projects in international competitions and we managed to have at least 1 project qualified in the final at each one of them. In this way we manage to prove to ourselves that the work methodologies and systems are on the right track and they produce results that make our clients happy and performant. The competitions where WebDigital submitted projects are : Google Premier Partner Awards were we were nominated at the Search Excellence category, European Search Awards where we were nominated at Best Low Budget Campaign, Global Digital Excellence Awards where we were nominated at 3 categories: Best Low Budget Campaign, Global ROI Campaign of the year si Global PPC Agency of the Year – Small.