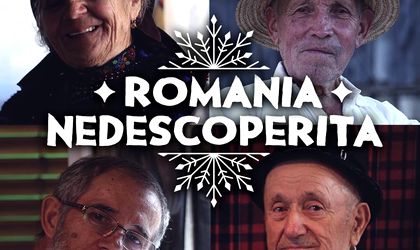 Do you know who Romania's Living Human Treasures are? Neither did Romanians until last year. But you can most certainly find them in Romania, in the middle of the wild Carpathian Mountains.
Living Human Treasures is the official name given by Romania's Ministry of Culture to a few people who are the last keepers of ancient Romanian customs and professions.
Sadly, this acknowledgement wasn't enough. Year by year they fade away along with the traditions they keep. Why? Because they are old and live in isolated places deep in the Carpathian Mountains, which are hard to reach by car or by foot. Vodafone Romania decided to make good use of having the country's best data network coverage to give them a voice, live on Facebook.
Undiscovered Romania is a new social media channel, which connects young urban Romanians to the Living Human Treasures, making them part of the daily lives of all Romanians. The channel showcased a number of the Living Human Treasures:
Dumitru Sofonea – sheepskin coat maker from Dragus Village, Brasov County;
Floare Finta – keeper of ancient Oas regional traditions, from Maramures County;
Nicolae Muntean – glass and wood icon painter from Vinerea Village, Alba County;
Nicolae Pitis – the very last doina singer (doina is a traditional Romanian music genre), from Lapus Village, Maramures County.
Thanks to the creation of this channel, the Living Human Treasures have moved from almost complete isolation to being able to interact live, with hundreds of thousands of people.
Word of mouth about the project was so significant that celebrities engaged with the campaign. Simona Halep, the Women's Tennis Association's world number 5, reached out for advice from the Living Human Treasures after one of her Grand Slam matches.
CRBL, a Romanian artist and judge of the Romanian TV show Next Star, created a song, live, with one tradition keeper. During another live broadcast, Dana Savuica and Dorin Negrau, Romanian designers who have presented during New York's Fashion Week, designed a new jacket inspired by the country's traditions.
Vodafone has mobile operations in 26 countries, partners with mobile networks in 49 more, and fixed broadband operations in 17 markets. As of December 31 2016, Vodafone had 470 million mobile customers and 14.3 million fixed broadband customers.
Romanita Oprea